BMW 3 Series GT: what's it like to live with?
Our man's a big fan of the BMW 3 Series GT, and is sorry to see star player leave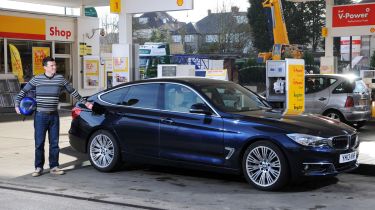 Forget match of the day – I'm more interested in hatch of the day. Because when it comes to premier league five-door motoring, the BMW 3 Series Gran Turismo is one tough opponent.
Unfortunately, the 328i GT is leaving our fleet, which is a real shame, because I've realised it's a far more relevant car than I initially gave it credit for.
If you'd asked me eight months ago to rank the 3 Series GT, saloon and Touring in order of preference, the hatch would've come third. But that's the point of these reports – they give you time to uncover a car's strengths and weaknesses.
Admittedly, the 3 GT has a bit of an image problem – as a result, BMW has only sold 2,183 since last April's launch, and shifted 163 last month, compared to 1,320 saloons and 673 Touring estates. But I think if dealers pushed a bit harder, they could convince more buyers to spend the extra £1,000 over the Touring.
Buyers like my sister, who considered a new 3 Series Touring a few years ago, but found it wasn't quite big enough in the back for her kids. She went for a far more expensive 5 Series Touring – yet the 3 GT would've fitted perfectly.
I never fully appreciated the spacious rear seats, but the big boot was great while I was renovating my flat. Features like the flat floor, with a slot beneath for the parcel shelf, and the boot-mounted seat releases show the thought that's gone into this car.
The 328i isn't the best model, as we averaged only 29.8mpg. Still, the 242bhp 2.0-litre twin-turbo is smooth, powerful and fun to rev – that's probably why we couldn't match BMW's official 44.1mpg.
Our model had £11,840 of options, too, but you could halve this and still get a great car. Just be sure to add the £1,990 Professional Navigation Pack: its big map display looks awesome and makes cutting through rat runs easy.
But the thing I'll miss most about the 3 GT is its all-round brilliance. In town it's super comfy and easy to drive, on the motorway it's swift and quiet, and it's as much fun as a sports car on a B-road. As I said, it really is the hatch of the day.
BMW 328i Gran Turismo Luxury auto
On fleet since: May-13Price new: £35,915Engine: 2.0-litre 4cyl, 242bhpCO2/tax: 149g/km/£140Options: 19-inch alloys (£800), adaptive suspension (£750), memory seats (£945), head-up display (£825), metallic paint (£645), Nav Pack (£1,990), sunroof (£1,180), reversing camera (£330)Insurance*: Group: 36 Quote: £490Mileage/mpg: 9,775/29.8mpg*Insurance quote provided by AA (0800 107 0680) for a 42-year-old living in Banbury, Oxon, with three points.