BMW M4 video review
The M4 is a worthy new addition to the legendary BMW M-car range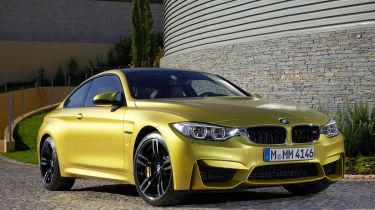 Along with the latest BMW M3 saloon, the BMW M4 coupe marks probably the biggest step change in the history of this iconic performance car.
Firstly, this two-door BMW M-car is no longer an M3 Coupe. Secondly, for the first time since the M3's inception in 1987, the naturally aspirated engine has been ditched, and replaced by a turbocharged straight-six.
With every new BMW M-car, there's always a bit of trepidation as it's a formula you don't really want to mess with. Happily though, BMW has delivered on its promise that buyers and M-car enthusiasts won't be disappointed.
The BMW M4 is powered by a three-litre turbocharged straight-six. Despite being smaller than the V8 in the old M3 Coupe, it has 9bhp more and torque is up by a beast 41 per cent. With the seven-speed DCT gearbox, it'll also reach 0-62mph in 4.1 seconds. The M4's impressive performance is also helped by BMW relieving it of 80kg over the old M3 Coupe.
The handling is exactly what you want from any BMW M-car. If you take it out of 'M1' mode which makes it feel just like any other nice 4 Series, and go for the 'M2' setting, the M4 everything a BMW M driver would want - it's really easy to manage, really communicative and a little bit mental. In corners, it just refuses to understeer and the body stays absolutely flat. In addition to the steering-wheel mounted 'M1' and 'M2' settings, the BMW M4 gets a whole array of buttons down by the gearstick to tweak the settings of the powertrain, suspension and steering.
In addition to the incredible performance and handling, how BMW has made the M4 so useable is outstanding. It's also impressive to use every day, so it's as capable on a track as it is on a 100 mile slog from London to Birmingham.
The BMW M4 isn't cheap at £55,000, but it feels like all the car you could ever really need.