Best Executive Car: BMW 5 Series
The BMW 5 Series has returned to the top of the executive class, and it's all down to one model.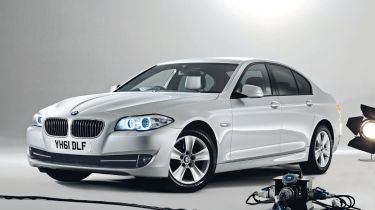 Why it won...
The BMW 5 Series has returned to the top of the executive class, and it's all down to one model. The Audi A6 stole the BMW's crown at our New Car Awards last time around, but the arrival of the ultra-frugal 520d EfficientDynamics has changed the shape of this sector of the market.
CO2 emissions are absolutely critical here, as company car drivers pay more in tax for higher-polluting models. And with a CO2 output of only 119g/km, the new 520d ED is cleaner than many superminis, never mind its traditional prestige rivals.
That makes it an attractive corporate choice, as you get to enjoy all the benefits of owning a classy 5 Series without footing the bill when you file your tax return. But the best news for anyone thinking of taking the plunge is that the dynamic compromises are minimal.
Tall gearing takes the edge off acceleration, but the 520d ED still goes from 0-62mph in 8.2 seconds, and has the same appetite for corners as standard models. Best of all, those longer gear ratios make it a brilliant motorway cruiser, and it should easily cover more than 600 miles between refills, meaning stops to refuel are kept to a minimum.
If you aren't obsessed by emissions, the rest of the line-up won't disappoint. The 530d promises sports car performance and luxury car refinement, while the Touring estate is supremely versatile. All models are available with BMW's optional pre-paid servicing packs, too, giving the 5 Series genuine all-round appeal.
Our choice: 520d EfficientDynamics
A fully fledged executive saloon that drives brilliantly, looks great and costs peanuts to run as a company car? Sounds too good to be true – but nobody told BMW. It has achieved the impossible with its ultra-efficient 520d ED.
Commended
Audi A6
Last year's champion in this class is still a formidable saloon. Its broad range of engines, handsome looks and class-leading interior all impress. And it's also the only car in this sector available with four-wheel drive. It took the arrival of the ultra-efficient BMW 520d ED to knock it off the top step of the executive saloon car podium.
Mercedes CLS
Gorgeous looks only get you so far, but the Mercedes CLS is more than a pure style statement. Those eye-catching curves are based on solid underpinnings, with a fine range of engines and one of the most luxurious cabins in the business. It's not cheap, but the best things in life rarely are.