Watchdog: Faulty safety systems
Why fork out on expensive safety systems if you can't rely on them?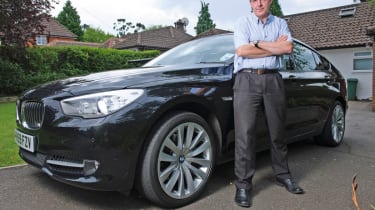 What's the point in an expensive safety warning system if you still have to make manual checks of the part of the car it's supposed to monitor?
That's the question on Mike Allen's mind. Mike, from Reigate, Surrey, was amazed when he took his BMW 5 Series to his local Kwik Fit to get the tyres checked.
He was told the car was dangerous to drive until new rear tyres were fitted. The rubber was badly worn – yet Mike hadn't noticed. "The inside of the tyres had worn badly and unevenly," he said. "But there was plenty of tread on the outside."
He also hadn't been worried about his tyres as his car came with a factory-fitted tyre pressure monitoring system (TPMS). This is a £255 option on the 5 Series. But even though the back right tyre had virtually no air in it, the expensive TPMS gave no warning. "If the tyre had given up on the motorway, it could have been really serious," Mike said.
Staff at his local dealer, Vines of Redhill, argued Mike should be checking his pressures manually. "But if that's the case, what's the point in having a tyre pressure monitoring system?" Mike asked.
We put that question to Vines. Its service adviser, Paul Gilchrist, said: "The light only comes on if the pressure in one or more of the tyres is different to the others. It won't come on if they're all low by the same amount."
We pointed out that only two of Mike's tyres were affected, but the garage would only add that it had checked his system. "Any faults would have shown up," Gilchrist explained.
A BMW spokesman told Auto Express it was "extremely rare" for the TPMS to fail, adding: "I don't know of any issue we've had since the system was introduced."
The AA's legal team added that Mike would have to prove the TPMS was defective to take legal action, telling us: "Had something happened and it could be proven there was a defect in either the material used or the way it was put together, then he could pursue a claim against the manufacturer under product liability legislation."
The problemMike's TPMS system failed to tell him when his tyres were under-inflated. BMW said he should check his tyres manually – so what's the gadget's point?
BMW's responseBMW is unaware of any issues with its TPMS system and has had no record of failures. The dealer reiterated its advice that owners conduct manual checks.
Legal adviceThe AA's legal team says that if a motorist is in an accident as a result of a fault that should have been flagged up by a safety system, they may be able to pursue the manufacturer under product liability legislation.
Our verdictMike makes a great point... Why would you fork out £255 for a fancy gadget if it can't be relied upon? If you need to manually check tyre pressures anyway, there's no point in having a TPMS.
Do you have a motoring problem that needs investigating? We're here to help… E-mail mail@autoexpress.co.uk or Tweet us @AutoExpress.