BMW i8 video review
The BMW i8 is a game-changing hybrid supercar that makes the Audi R8 and Porsche 911 look and feel dated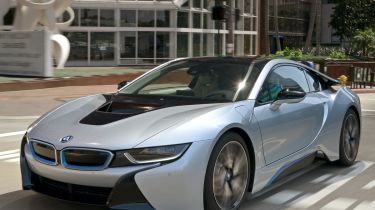 The BMW i8 can trace its roots back to the Vision Efficient Dynamics Concept from the 2009 Frankfurt Motor Show.
After four years of technical workshops and concepts, BMW confirmed it would build that car and five years later, it arrived in the form of the i8.
The design of the car is absolutely incredible and it's a surprise to see how much of the concept's design that the BMW has managed to keep. There's a really nice cut-out in the bonnet which comes in a contrasting colour to the body and at the back, there are a pair of elegant flying C-Pillars. The most striking feature of the BMW i8, however, is its upward-opening scissor doors.
The BMW i8 is driven by three power-sources. A 129bhp motor driving the front wheels, a 227bhp three-cylinder driving the rears, and another small boosting electric motor, which works as a generator.
The BMW i8 also has a huge battery pack, which allows for 22 miles of range. Surprisingly though, the BMW i8 still weighs 70kg less than an Audi R8, which comes as a result of its high-tech carbon fibre body and aluminium chassis. It can also hit 0-62mph in 4.4-seconds.
Driving on the electric motor, the BMW i8 feels Volkswagen Golf GTI fast, but if you put your foot down while going up a hill, the three-cylinder kicks in. It sounds really good - pretty similar to the throaty six-cylinder in the Porsche 911.
To make the BMW i8 come fully alive, though, you need to put it in 'Sport' mode.
This keeps the turbocharged three-cylinder engine running, as well as the electric motors. The engine sounds even better, and because you've got the electric motor giving you that instant shove, it feels fast. As soon as it starts to get a bit inefficient, the engine kicks in. You might expect a surging, stepped acceleration from the BMW i8, but it's really smooth.
The BMW i8 is really nice to drive, and what you notice more than anything else, is that it feels really light on its feet. All that carbon fibre really seems to have done the trick.
If you're expecting the BMW i8 to be an M Car, then don't. It's not a big oversteering brute, it's much more clinical than that and gets a character all of its own.
The steering on the BMW i8 is really nice and light, plus you get a really crisp turn-in. When the back tyres are starting to lose traction, the fronts will come in and drag you out thanks to its four-wheel drive system. It's really forgiving, but not quite as sharp as a 911 maybe. However, it's different and it's something immensely likeable.
The BMW i8 comes with a £100,000 price tag - similar to a Porsche 911 or an Audi R8 - but what's amazing is how much tech you get for that.
Obviously there's the carbon-fibre body, three power-trains and four-wheel drive, but there are even options such as laser headlamps.
The BMW i8 makes the Audi R8 and 911 feel a bit old, but the Porsche is still sharper. What's clear though, is that BMW has definitely done enough to keep Audi and all other sports car manufacturers on their toes.