New BMW i8 2014 review
BMW i8 supercar has arrived here at last. We test its mettle on some of Scotland's most exciting roads
Find your BMW i8
Offers from our trusted partners on this car and its predecessors...
Or are you looking to sell your car?
Advertisement
It's hard not to be blown away by the BMW i8. It looks sensational and delivers a knock-out punch, yet is backed by the sort of running costs that will shame a city car. Sure, it's not quite the ultimate driving machine we've come to expect from BMW, but as a first attempt to redefine the supercar for the 21st century it's a truly remarkable achievement. Take the plunge and you won't be disappointed.
The quiet, twisting, pock-marked roads of the Scottish highlands are a world away from the smooth highways and glitz of Los Angeles, where we last drove the BMW i8. Now it's got nowhere to hide, is this carbon fibre, petrol-electric supercar just as good as we first thought?
There's something about the contrast of desolate hills and deserted roads with the i8's cutting-edge design that makes the car stand out more than we ever imagined. The drivers and pedestrians we did pass gawped and pointed with amazement – it must be like seeing a Stealth Bomber land at your local airstrip.
And if it wasn't for the  BMW i8's attention-grabbing looks, stealth is something it could do very well. Set off in the default Comfort setting and it'll run purely on the near-silent electric motor that powers the front wheels.
More reviews
Car group tests
In-depth reviews
Road tests
Used car tests
Avoid flooring the throttle and stay below 75mph, and the 1.5-litre three-cylinder turbo that powers the rears won't fire into life at all – at least, until the batteries are depleted after about 15 miles of normal driving.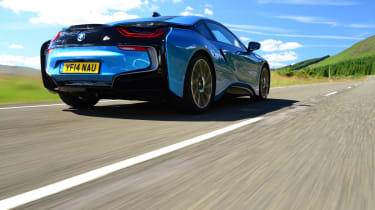 It feels relaxed, smooth and as quick as a Ford Fiesta ST. Pushing the throttle near the floor or selecting Sport mode starts up the engine. Where you had just 129bhp before, there's now a total of 357bhp and four-wheel drive at your disposal. Performance feels surprisingly smooth given the complicated process going on underneath the skin, and is helped by the slick six-speed auto.
The electric motor fills in for the engine at low revs where it won't be producing much torque, then takes more of a back seat as the turbo helps rocket you through the gears and on to a limited 155mph.
To give you an idea of the performance on offer, the i8 will go from 0-62mph in 4.4 seconds, placing it firmly in Porsche 911 Carrera 4S territory. But it's the BMW's instant surge of acceleration that really impresses – there's no need to wait for the revs to build, it just flies.
Some clever engineering and a bit of digital audio wizardry help ensure the tiny engine sounds good from inside the cabin, too. It's a little muted, but the deep, rough growl is similar to Porsche's flat-six.
However, noise and acceleration are only half the story; what about the handling? With 4WD, adaptive dampers and weighing 70kg less than the lightest Audi R8, things look promising.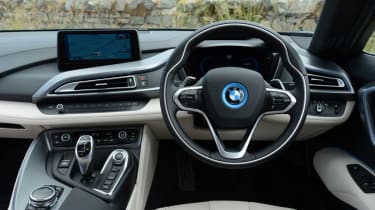 The steering is light at all speeds, but never feels vague. As a result, you end up guiding the i8 with your fingertips, using the car's quick responses and strong grip to place the nose with pinpoint accuracy. Skinny front tyres mean the car will eventually wash wide sooner than a 911, but the hybrid four-wheel-drive system means the BMW boasts plenty of traction when exiting corners. There's also very little body roll, although the ride is remarkably smooth, with only a little firmness at low speeds.
Partnership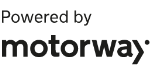 Need to sell your car?
Find your best offer from over 5,000+ dealers. It's that easy.
Ultimately there are cars in this class that are a bit sharper and a bit more involving, but there's nothing else that can match the i8's eco credentials. Officially it can return 134.5mpg and emits a mere 49g/km of CO2, but over the course of a normal 50-mile drive you can probably expect around 50mpg. That's some way off what BMW claims, but still mightily impressive for a car this fast.
At £94,845 (after the £5,000 Government grant) it's a bit pricier than the £88,400 911 4S. However, once you add the i8's adaptive dampers, heated leather seats, LED headlights, dual-clutch gearbox and parking sensors, the Porsche actually works out more expensive.