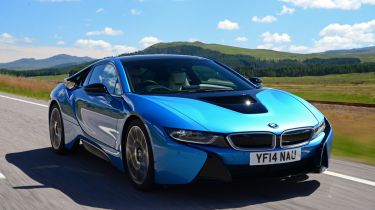 The BMW i8 really shook up not only the sports car world when it arrived in 2014, but also the car world in general. It's one of the most crucial cars of the last decade and marks an achievement of true innovation in terms of design, performance and efficiency by BMW. In years to come we could even look back on this car as the one that saved the supercar thanks to this enticing blend.
Sitting alongside the BMW i3 in the brand's eco-friendly 'i' range, the i8 has head-turning looks and an advanced hybrid powertrain. The car is instantly recognisable as an i8 with looks unlike anything else on the road. Whichever wheel and colour combination you opt for, it turns heads wherever it goes thanks to narrow LED headlights, elegant curves, sweeping flying buttresses and gullwing doors. It certainly won't blend in like many of the more mainstream models from the BMW stable.
The i8 is powered by a 1.5-litre 3-cylinder petrol engine – also found in the MINI Cooper – that sits behind the back seats. It's combined with a 129bhp electric motor linked to lithium-ion batteries.
You might think power from a dinky MINI won't be enough to trouble the likes of the Audi R8 and Porsche 911, but the i8's performance figures are impressive. The hybrid powertrain boasts 357bhp and 570Nm of torque and, as a result, the i8 will blast from 0-62mph in just 4.4 seconds and onto a top speed of 155mph.
More reviews
Car group tests
In-depth reviews
Road tests
Used car tests
However, despite these supercar-rivalling performance figures, the i8 shouldn't cost any more to run than a supermini. Thanks to the plug-in electric powertrain, BMW claims the i8 will return a remarkable 134.5mpg and CO2 emissions of just 49g/km – something previously unheard of for a supercar.
Of course, these figures are only achievable in the real world if you charge the BMW's batteries once a day and if the majority of your journeys can be completed within the 22-mile electric range. Even so, you can still expect more than 40mpg if you use the car as you would a conventionally powered one – something impressive in itself when you consider the performance on offer.
Then it comes down to the small matter of the BMW i8's price. As you would expect, it's not a cheap car thanks to its groundbreaking tech and gorgeous looks. The i8 can be yours for just under £105,000 - but you'll have to be patient because there's a lengthy waiting list for the car.
Even if the i8's technical prowess and stunning, futuristic looks don't impress you, you can't deny the importance of this car as it represents a huge milestone in terms of the way high performance vehicles are engineered.