BMW i8 waiting list over a year long
Order an i8 in the UK now and you won't receive it until the end of 2015, says BMW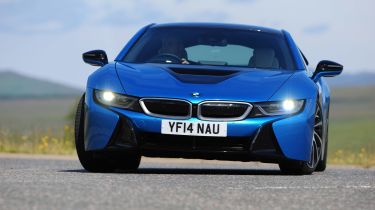 Sales of the BMW i8 have got off to a scintillating start in the UK, with a waiting list that stretches over a year. A company spokesman confirmed that anyone ordering the £99,115 hybrid sports car today would have to wait until the end of next year before receiving it. To date, 200 i8s have been delivered to British buyers, but the order bank already stretches to well over 400 cars – more than a year's allocation for the UK. It's been a bumper start for the i3 hatchback too, with over 10,000 registrations globally in its first year on sale. The UK accounted for 1,000 of those with 60 per cent of buyers choosing the more expensive range-extender REX version over the pure-electric model – in line with BMW's predictions.    
• Best electric cars to buy now  BMW has also revealed a massive 80 per cent of i3 and i8 buyers have opted to have the optional home charging point installed. The 'BMW i Wallbox' costs £360 and thanks to a 32A supply lets you charge the i3 from empty in around three hours. An impressive 57 per cent have also opted for BMW's 'Charge Now' card, which for a £20 annual fee allows them to use public charging points from a variety of suppliers and charges your bank account directly on a pay as you go basis. However, using customer feedback BMW has found that the overwhelming majority of customers are charging at home and only using public points as back up – suggesting very few i3 owners are getting caught short with a flat battery while they're out and about.
There's a long wait for an i8 but is it worth it? How do you rate BMW's hybrid sports car? Tell us in the comments section below...