BMW Deep Orange 4 unveiled
Students from Clemson University build BMW X3-based Deep Orange 4 concept that combines X4 looks with pick-up versatility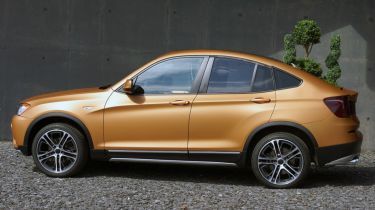 This is the Deep Orange 4, a radical one-off concept from BMW's US arm and students from Clemson University in South Carolina.
Based on the BMW X3, at first glance the design and manufacturing project appears to have been given little more than an BMW X4-style makeover, owing to the SUV's sloping roofline. 
This is much more than an aesthetic revision though, as Deep Orange 4 is intended to target a niche market of customers who want performance, luxury and flexible storage space in one package.
Automotive engineering graduate students redesigned the bootlid to include an electrically retractable rear window and two-part sideways opening doors, as demonstrated in the video below.
It's not the most well-oiled of prototypes, but it does provide both easy access to the boot and allows the concept to double up as a luxury pick-up.
You may well wonder just how many people are on the look out for this particular mix, but BMW specifically challenged the Clemson University team to develop a cost-efficient plan for the highly specialised Deep Orange 4.
"The ability to integrate more low-volume models without incurring capital-intensive retooling costs and efficiency losses will be key to success in the future as we strive to respond to changes in market needs faster and with more flexibility," explained Rich Morris, BMW Manufacturing's vice president of assembly. "The students working on this phase of the project did an excellent job of keeping costs down while finding optimal integration opportunities."
As the name suggests, this is the fourth time Clemson University's International Center for automotive Research has set its student the task of creating a Deep Orange concept vehicle based on an existing model from a major manufacturer. The objective is to provide an insight into all aspects of vehicle development, from design and prototyping to product planning and market research.
Although BMW hasn't officially ruled out putting a Deep Orange 4-inspired X3 into production, it's unlikely we'll see anything quite like it in showrooms any time soon.