New Bugatti Veyron successor spied testing
A successor to the mighty Veyron has begun testing, with a more powerful version of 8.0-litre quad-turbo W16 engine
A successor to the mighty Bugatti Veyron is under development, and our spies have caught two intriguing prototypes in early testing at the Nurburgring. It looks like Bugatti plans to up its game in the wake of rival hypercars like the Ferrari LaFerrari, McLaren P1 and Porsche 918 Spyder arriving on the scene. While the black and brown test mule gives very little away besides a telemetry aerial stuck to the roof, the white car is altogether more mysterious. An aluminium structure is clearly visible protruding from the engine bay, suggesting some serious upgrades to the Veyron Super Sport's 1,183bhp 8.0-litre quad-turbo W16 engine are being applied. Wolfgang Schreiber, Bugatti's CEO until Wolfgang Durheimer takes over on June 1 this year, has previously stated that the Veyron's successor will be significantly more powerful, but whether it will feature a boosted version of the existing engine as some reports suggest, or a hybrid element will be added, is still the subject of debate.
• What is the world's fastest car? However, when we spoke to Bugatti's chief vehicle engineer, Jens Schulenburg last year he told us: ""The big challenge on the next car will be reducing weight – we are looking at some incredible technologies, such as wheels made entirely from carbon fibre. Hybrids are definitely something we're looking at, too," suggesting significant weight savings in the car's construction and electric motors to supplement the 8.0-litre engine.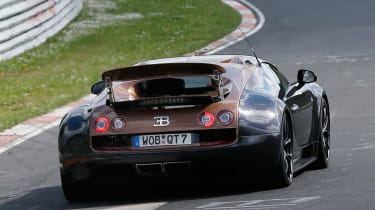 With power expected to climb as high as 1,500bhp and torque to around 2,000Nm, performance should be characteristically unhinged. A 0-62mph time of well under 2.5 seconds and a top speed north of 270mph is possible, snatching back the title of the world's fastest car from the 1,244bhp 270.49mph Hennessey Venom. With the four-door Galibier now officially axed from Bugatti plans, the Veyron successor is being line up to enter production soon after the fewer than 50 remaining Grand Sport Roadsters are sold. That means it's unlikely we'll see the newcomer in 2014, although a debut towards the end of 2015 is feasible, with a price tag that could approach the £2m mark.
Find out all about the fastest cars in the world here