'Buick is dependable in the US - so why can't Brits buy them?'
US reliability reports say Buick is the most reliable brand across the pond; Mike Rutherford asks why they aren't in the UK...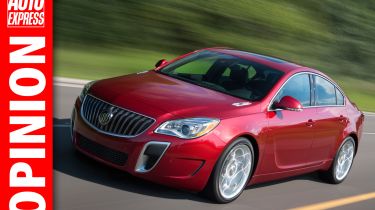 Here at Auto Express we're healthily obsessed with car reliability. We know – because our latest Driver Power survey tells us – that Lexus, Toyota, Honda, Subaru and Mazda (in that order) are world-beaters.
In a similar but entirely separate survey just conducted by our friends at Consumer Reports (CR) in New York, drivers in America pretty much concur with their Brit counterparts. In 2015, they placed Lexus and Toyota at the top of the pile (as did you), followed by Audi, Mazda and Subaru, then Honda just outside the top five.
We already know these Japanese giants wipe the floor with their rivals in Britain. But now it can be unequivocally confirmed that Japanese brands rule the reliability roost across countries and continents. 
• Driver Power: best cars to own in 2015
Intriguingly, Americans and Brits can't agree on Audi, which is a reliability champ over there but, sadly, not here. Unfortunately, we do agree that Nissan is the worst of the big Japanese firms and more like a reliability chump than champ these days. Even more worrying is that its Infiniti brand languishes fifth from bottom of the CR reliability league table, just below the Chrysler and Dodge brands, but above Cadillac, Ram, Jeep and, in last place, Fiat.
Seems Nissan owners in the States have been suffering transmission problems. Meanwhile, the Infiniti Q50 is reportedly plagued by an array of teething troubles with its new electronic gearing and computers. Other Infiniti models are said to be tormented by gearbox issues. Let's hope such faults won't blight Sunderland-built Nissans and Infinitis.
• New Infiniti Q30 2015 review
CR also has damning evidence that says the BMW 5 Series and X5, Chevrolet Corvette, Hyundai Santa Fe, Kia Rio and Tesla Model S are all "models with declining reliability". It's scathing of some cheap Fords with "reliability headaches", plus describes some expensive Mercedes models as "least-reliable" in class. Ouch!
On a more positive note, Buick is now the most dependable US brand by far, impressively sitting in seventh place in the CR reliability rankings. These cars are well priced and currently blessed with discounts of up to $6,000 (just under £4,000). They look good and, evidently, they are good. So why has America spent decades trying – and spectacularly failing – to flog iffy Cadillacs, Chevrolets and Chryslers in Britain when it could and should have been sending over and selling us far superior Buicks?
Do you agree with Mike? Should General Motors ship over their Buick range to the UK? Let us know below...