MediaDAB
MediaDAB uses your radio controls and Celsus can tweak your antenna to receive a DAB signal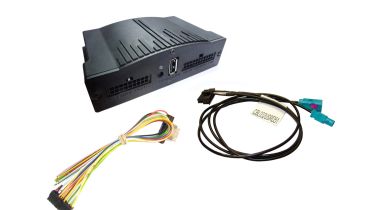 Digital radio is coming, and there are more ways than ever to get Digital Audio Broadcasting (DAB) in your car. Celsus has just launched its new MediaDAB – a rival to our Product of the Year, the PURE Highway 300Di.
The MediaDAB is a universal product that aims to be fully integrated into your car's audio system. This means there's no display screen – the boxis hidden behind the dash and the DAB signal is sent to your stereo's display.
You select stations using your car's steering wheel controls, although Celsus will sell you a remote for £39.95 if your car doesn't have any.
There's a USB slot as well, which ensures the MediaDAB is futureproof, as you can install software updates easily. The maker also promises that full iPod connectivity will be available soon.
If you want to keep your car's standard antenna, Celsus will set this up to produce a DAB signal, or you can buy the MediaDAB with an antenna for £20 more.