Latest Euro NCAP results: Full five stars for new Ford Fiesta
New Ford Fiesta supermini gets full Euro NCAP marks, while a handful of new SUVs have also been put through their paces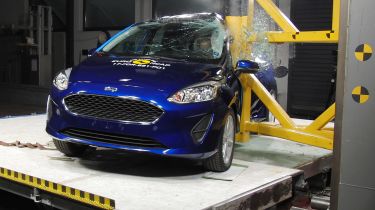 Fresh Euro NCAP tests results are out, with big news for UK car buyers – the all-new version of Britain's best selling car has been put through the Euro NCAP gauntlet.
Ford's new seventh-generation Fiesta has achieved a full five-star rating with standard equipment only, joining the latest SEAT Ibiza as the second supermini this year to achieve a maximum score with no optional safety pack necessary.
• Euro NCAP testing: everything you need to know
The only other supermini published in Euro NCAP's September result is the latest Kia Picanto, achieving a three star rating with standard equipment, but the four when the optional "Advanced Driving Assistance Pack" is fitted to the car. Similarly, the larger Kia Rio gets a standard three star rating, bumped up to five with an optional safety pack.
A clutch of fresh SUVs have been included in the results too, with full marks across the board – the new Mazda CX-5, Renault Koleos, Jeep Compass and Vauxhall Grandland X have all achieved a maximum score with standard equipment only. Euro NCAP is keen to point out that the Compass could have performed much better in side impact tests though.
Likewise, the Mercedes C-Class Cabriolet receives a five star rating, though the crash test body points out concerns regarding the car's performance in the side impact test, with child rear occupant safety under the spotlight.
Michiel van Ratingen, Secretary General of Euro NCAP said: "All occupants deserve to be equally well protected, whether they're an adult driver or a child seated in the rear. The adoption of a 10-year-old child dummy in our test last year allows us to highlight areas for improvement, even in five star cars."
Do Euro NCAP results influence your choice when it comes to buying a new car? Tell us in the comments.