US report finds Tesla Model S can emit more 'lifetime CO2' than a petrol supermini
Lifecycle CO2 emissions of Model S higher than Mitsubishi Mirage's when run in US Midwest, though results differ in other US locations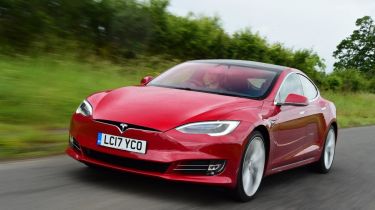 The Tesla Model S has been found to emit more carbon dioxide (CO2) over the course of its whole life than a petrol powered supermini in areas where electricity production is particularly reliant on high CO2-emitting sources. A new study has revealed that in such areas, the lifecycle CO2 emissions of the Model S are higher than those of a Mitsubishi Mirage with a petrol engine.
Researchers for Massachusetts Institute of Technology (MIT) analysed whole-life CO2 emissions for the Mirage and the Model S, as well as a BMW 750 xDrive. In doing so they found that in the US Midwest, while the Model S emits 226g/km of CO2 for every kilometre it travels and the 7 Series manages 385g/km, the Mirage put out just 192g/km - though in other areas of America the Model S was found to produce fewer lifetime carbon emissions than the Mirage.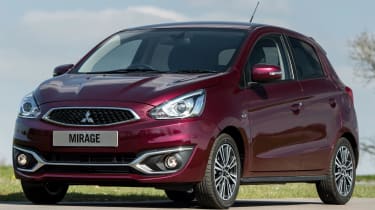 Scientists from MIT's Trancik Lab looked at the energy consumed and CO2 emitted during the cars' production and end-of life recycling. They also calculated CO2 'use emissions' for each model, taking into account either the petrol they would burn, or the CO2 produced by the power stations necessary to generate the Model S' electricity.
The researchers stress they are not attempting to denigrate the positive impact electric vehicles bring: "Both hybrids and electric vehicles are better than conventional cars of similar size and horsepower, even in emissions-intensive locations", said MIT's Jessika Trancik.
• Best electric cars to buy now
It should also be noted the Model S' emissions are based on it being located in the US Midwest, meaning its use emissions are tied to the CO2-intensive ways in which electricity is produced there. Professor Trancik cautioned that "if we consider the US average electricity mix, the CO2 emissions intensity of the Tesla Model S is significantly lower than that of the Mirage."
The size of electric vehicles – together with the size of their battery packs – is seen as another important factor where environmental friendliness is concerned. Mining and processing the lithium required for lithium-ion batteries are considered high-impact undertakings from an environmental point of view.
The extra weight of larger electric vehicles – together with the increased range demanded by consumers – necessitates the fitment of larger batteries, which in turn require more lithium and cobalt.
A Tesla spokesperson told us an electric vehicle "displaces emissions away from where there is an acute problem via zero tailpipe emissions." Moreover, Tesla highlighted that bigger battery packs offered an advantage, as "longer-range EVs do this to a greater extent by replacing petrol/diesel fully."
What do you think of the MIT findings? Have your say in the comments section...