Celebrating 1,500 issues of Auto Express
Auto Express number 1,500 is out on 22 November. Subscribe now to get it and a free G3 Pro Set Colour Restorer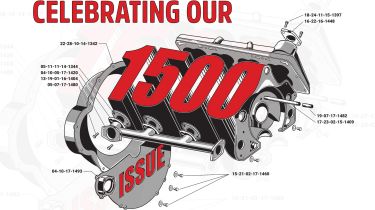 We'll be celebrating our 1,500th issue in style with some very special 1,500 themed content plus all of the regular features that make Auto Express Britain's best-selling weekly car magazine.
The special issue will include tests on the best 1,500cc cars on the market, the secret to upgrading your car for just £1,500 and the best used cars you can buy for £1,500. You'll also find part one of our Christmas Gift Guide, not to mention all our usual news, tests and product reviews.
From all of us here at Auto Express, we want to thank you for your support - we wouldn't be here without you! For all new subscribers, subscribe by 14 November to receive the special 1,500th Issue!
Your Free Gift
If all this bonus content wasn't enough, new subscribers will also receive a premium gift in celebration of our 1,500th issue.
G3 Pro Set
The G3 Pro Colour Restorer uses a professional grade formula to return colour and gloss to dull, faded paintwork. Perfect for removing minor defects including micro-scratches and swirls, light oxidation, holograms and tree sap, it will bring paint back to its original showroom condition. Ideally applied using a slightly damp G3 Pro White Waffle Applicator Pad in a back and forth motion.
Click here to subscribe to Auto Express right now...
Celebrating 1,500 issues of Auto Express
The best 1.5-litre cars from past and presentBest cars for £1,500 or lessBest car upgrades: the full car makeover for £1,500Opinion: "They told me AE wouldn't last 15 issues, never mind 1,500"Opinion: "Here's to the next 1,500 issues and a diverse future"