"Many told me Auto Express wouldn't last 15 issues, never mind 1,500"
Founding member of the Auto Express team, Mike Rutherford, celebrates issue 1,500 with some choice memories...
When I became one of the founding fathers of Auto Express in the summer of 1988, prior to launching the mag that autumn, many 'experts' took great delight in telling me it wouldn't last 15 issues, never mind 1,500. How wrong you were, chaps.
Since then, so much has altered on the car, driving, design, tech, corporate, insurance, retailing, leasing, fuel, safety, tolling, pricing, policing, personnel, parking and political fronts that it's impossible in the space I have here to acknowledge all the significant products, people and events.
But the likes of Audi, Aston Martin, Dacia, Kia, Jaguar, Land Rover, McLaren, SEAT, Skoda and SsangYong deserve credit for successfully reinventing their brands – and developing them into some of the very best marques in their respective marketplaces.
Relatively or completely new mainstream firms such as DS, Infiniti, Lexus, MINI and Tesla need recognition, too – not least for investing untold billions trying to break through. Citroen, Honda, Peugeot, Renault and Volvo earn special thanks for producing cars blessed with mpg figures that are more real world than those from their rivals.
Back in '88, petrol was for the motoring majority. Yet despite the presence of rival fuels ever since, petrol/gasoline is still king... and will remain so for many years to come. Today's so-called superminis have morphed into the best-value cars on sale today – largely because they're bigger and massively more efficient than family hatchbacks of '88. An affordable, borderline premium 2017 SEAT or Skoda of today is as good as – or better than – an unaffordable BMW or Merc of '88. More reliable, too.
Volkswagen was my number one car company back then, and might be today were it not for its diesel debacle that's maimed the brand and given the fuel a toxic reputation. JLR inherits the 'Number One in the World' title. It's no coincidence that Jaguar's Ian Callum and Land Rover's Gerry McGovern are now the greatest designers on the planet, too.
Aston's Andy Palmer succeeds Bob Lutz as the world's most talented corporate car guy. Stirling Moss (I recruited him as our first columnist) and daddy of the McLaren F1, Gordon Murray, get my living legend awards.
Why no mention here of the electric vehicle and autonomous revolution? Because it's still some way off. Promise I'll update you on this – in my column that'll celebrate the 2,000th issue of Auto Express.
15 of Mike's many memories of the first 1500 weeks of Auto Express
Schumacher's first F1 title
Being in Michael Schumacher's Benetton Ford garage at Spa in 1992 when he won his first Grand Prix - a race that was supposed to have been claimed by our very own Martin Brundle who was an Auto Express columnist that I ghost wrote for at the time.
Wind scream Viper
Dodge Viper - on the right day (mid-summer), in the right place (Highway 1), with the right music playing (not Ed Sheeran) and the right person (only you know) on the passenger seat, this car is more fun than a 911, R8 or just about anything else on four wheels. Still.
Paris to Beijing Rally
Doing the Paris to Beijing Rally in a Mercedes. Possibly the most dangerous thing I've ever been stupid enough to undertake on four wheels. Boring, too. Took us days to drive through the colossal wasteland that is Kazakhstan. And we had to sleep in the Merc for a night or two at the Khazak-China border - which they wouldn't let us cross until we applied for and waited to take delivery of our temporary Chinese number plates.
Lap of the Veyron
Driving a lap (just the one) in a Bugatti at an officially recorded top speed of almost 220mph - an experience that sounds more exciting and scary than it actually was due to the sophisticated nature, engineering excellence and overall integrity of the car. This wasn't a noisy, white knuckle drive. More of a peaceful pedal in the park.
Russian irregularities
Getting banged-up in Russia for alleged visa irregularities. Was finally released into the cold Moscow air at 3am and almost immediately attempted to return to Blighty. But not before being fined at the airport for alleged currency violations. Separately, the ITV crew I was working with had its camera gear confiscated for, you've guessed it, filming irregularities. Funnily enough, I haven't returned to Russia...and never will.
Festival of Speeding
Goodwood Festival of Speed - I attended the first one which was more like a little garden party, albeit in a bloody big garden. Now it's grown into the greatest and poshest motorsport/motoring/motor racing celeb event on the planet.
Across Ferry's Audi
Having a long conversation with Bryan Ferry backstage at the Royal Albert Hall where he'd just played to a packed house. He'd taken delivery of his new Audi only days earlier - and was speaking to me because he thought I was Audi's Managing Director.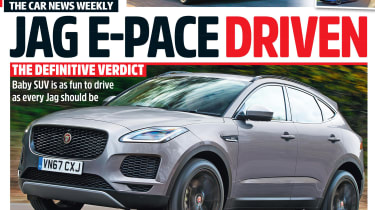 AE launch
Launching the first issue of Auto Express in 1988...in a nightclub...in Kensington. What were we thinking?
Tyrrell Formula 1 drive
My drive on a damp day in a Tyrrell Formula 1 car. It was immediately followed by an order for me to report to the circuit steward - who congratulated me for not crashing and burning it (as he predicted I would earlier in the day).
Moss on new tyres
Lending Stirling Moss my Golf GTI for a weekend - and getting it back with a brand new set of tyres. Apparently, Stirl had been out shopping in it.
Price too big for the XL1
Over a period of many, many years across many lands, driving all the VW XL1 prototypes, as well as the production version of course. Had it been sold for circa 30k as VW's top brass hinted it would, this could have been the most significant VW since the original Beetle. But because they got greedy and opted for a 100k price tag it died a death and is destined to become little more than a museum piece. Shame.
Prescott rebrand
Witnessing first hand the 'work' of former Transport Secretary, John Prescott who said much but did little. One of his major achievements in the job was to change the name of the Department of Transport to the Department for Transport. Genius John.
Korea-ing up the road
Seeing the world's biggest U-turn sign - just before driving myself and my Jaguar to 'The Bridge of No Return' that takes people (but not many of 'em) from South to North Korea. This is the world's most sensitive border. Me and the Jag didn't stay long.
Ice river road
The drive of my life - in a Jeep Commander, up the long and melting ice river (not to be confused with a mere ice road) leading to Tuktoyaktuk, one of the last Inuit 'villages' at the top of the world. Rarely do TV's Ice Road Truckers venture this far north into the Arctic Circle.
Dieselgate
Watching what was probably the world's finest car corporation shoot itself in both feet via its self-inflicted diesel debacle - the biggest and most damaging motor industry scandal of the last three decades...if not longer.
This week's issue of Auto Express is on sale now for just £3.20 - or you can click here to get 6 issues for just £1.
Celebrating 1,500 issues of Auto Express
The best 1.5-litre cars from past and presentBest cars for £1,500 or lessBest car upgrades: the full car makeover for £1,500Opinion: "They told me AE wouldn't last 15 issues, never mind 1,500"Opinion: "Here's to the next 1,500 issues and a diverse future"