"Here's to the next 1,500 issues and a diverse future"
Graham Hope assesses the future of the car industry with insight from PSA boss Carlos Tavares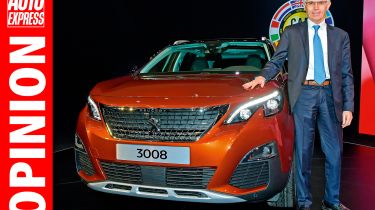 This week marks an impressive milestone for Auto Express, as we have published our 1,500th issue. Since 1988, we've been leading the way in UK automotive publishing with our weekly mix of news and tests.
As our columnist Mike Rutherford reflects this week, a lot has changed over the years. But I suspect that it's small fry compared to what's to come over the next decade. Something that was reinforced to me again last week when I spent the afternoon with Carlos Tavares, the visionary CEO of Peugeot, Citroen and Vauxhall owner PSA.
• "Many told me Auto Express wouldn't last 15 issues, never mind 1,500"
Tavares set the tone for proceedings when he admitted that PSA no longer wanted to be known as simply a "cutting-edge car manufacturer" but also an "efficient mobility provider". We've heard this chat before, but the scale of PSA's ambition is breathtaking.
Put simply there isn't a single piece of pie Tavares doesn't want his finger in. I was introduced to rental schemes for EVs, bikes and scooters, apps that allow repairers to bid for jobs, new digital platforms to buy or sell used cars, innovative E-commerce ideas and more.
Why does all this matter? Well it is specifically relevant given the publication of a report last week by analyst IHS Markit that predicts vehicle sales are set to drop from 80 million a year to 54 million over the next two decades in Europe, the US, China and India as urbanisation and digitalisation see people embrace on demand vehicle services. In a nutshell, car makers will have to do more than make cars.
And even in this area change is coming fast, as Tavares warned how autonomy could limit the democracy of personal vehicle transport due to the sheer expense of the tech. Worrying stuff.
However it evolves, one thing is for sure. The pace of change for car makers and users over our next 1,500 issues is going to greatly outstrip what we've seen already – a truly fascinating prospect.
Are you excited by the future of motoring? Let us know in the comments below.
Celebrating 1,500 issues of Auto Express
The best 1.5-litre cars from past and presentBest cars for £1,500 or lessBest car upgrades: the full car makeover for £1,500Opinion: "They told me AE wouldn't last 15 issues, never mind 1,500"Opinion: "Here's to the next 1,500 issues and a diverse future"