MoT test changes 2018: new failure categories take effect
Tougher tests for diesel cars plus new Minor, Major and Dangerous defect categories introduced to MoT test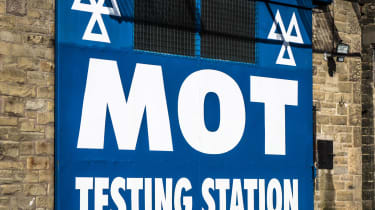 The MoT has undergone some of the most significant changes of its near 60-year history, with the arrival of stricter standards for diesels, and new defect categories for all cars taking effect on 20 May.
All cars going through the MoT test will now have their faults judged against new Minor, Major and Dangerous Defect categories, with Major and Dangerous defects causing a car to automatically fail the test. Cars with Minor faults will pass the test, but their MoT certificates will clearly show that the car passed the test "with defects", urging owners to effect a "repair as soon as possible".
• MoT checklist and top tips for passing
Diesel cars fitted with a diesel particulate filter (DPF) will be given a Major defect and automatically fail the MoT test if they emit "visible smoke of any colour" during metered checks. 
Testers will also inspect diesel particulate filters closely for signs of DPF removal or tampering, awarding a Major defect and failing the car if foul play is detected. Testers must refuse to test any car where the "DPF canister has clearly been cut open and re-welded" unless the owner "can show evidence that there was a valid reason to cut it open, such as for filter cleaning."
This last instruction clarifies the old MoT rules, which stipulate a car should be rejected only if its DPF is totally missing.
New checks on AdBlue, or diesel exhaust fluid (DEF), systems, daytime running lights, brake pads and discs, prop shafts and bumpers have also been introduced.
The DVSA's chief executive, Gareth Llewellyn, said: "I'd urge all motorists to familiarise themselves with the new items that will be included in the test so that they can avoid their vehicle failing its MOT. To be safe and responsible motorists should also carry out simple vehicle checks all year round."
New MoT fault categories: Minor, Major and Dangerous
The new Minor, Major and Dangerous categories apply to all cars, and are being introduced to meet a new EU directive, dubbed the European Union Roadworthiness Package.
Neil Barlow, head of MoT policy for the Driver and Vehicle Standards Agency (DVSA) told Auto Express the new categories would "help motorists do the right thing – i.e. not drive away from a garage. We're changing the wording on the certificate," Barlow said. "We've done a lot of research with motorists to find out what sort of information helps."
Dangerous defects will cause a car to fail its MoT as they pose "a direct and immediate risk to road safety or has a serious impact on the environment."
Major defects will also lead to failure, as they "may affect the vehicle's safety, put other road users at risk or have an impact on the environment."
Minor defects won't cause a car to fail the test, and pose "no significant effect on the safety of the vehicle or impact on the environment". Nonetheless, owners will be advised that Minor issues should be repaired as soon as possible.
One example of the new criteria, set out in the MoT tester's manual, concerns power steering.
If a car's power steering fluid reservoir is below the minimum mark, the car will be given a Minor defect. If the reservoir is empty, it will get a Major defect and fail its test.
If a section of "power steering pipe, hose or wiring" is "damaged or corroded and [the] steering [is] adversely affected", that would constitute a Dangerous failure, and the MoT certificate flag this up to the car's owner with greater urgency.
• How to check if a car is taxed, MoT'd and insured
Eric Smith, MoT scheme manager at Kwik Fit, which carries out almost a million MoTs a year, clarified that this would bring the terminology in line with the wording of the Road Traffic Act: "A Dangerous item means that vehicle should not be driven away from the garage," adding: "Driving a vehicle in a dangerous condition is a criminal offence."
Advisory notices will remain a part of the test but, if given, will sit more prominently on the redesigned MoT certificate, cautioning that owners should "monitor and repair if necessary".
New MoT diesel emissions tests 
Emissions testing has also got tougher, with changes that will "lower the limits for diesel cars", according to a Government blog on the subject. The MoT inspection manual for the new test explains that if the "exhaust on a vehicle fitted with a diesel particulate filter emits visible smoke of any colour", the car should be marked as having a Major defect, and fail its test. 
New MoT items being tested
While the defect categories and diesel tests are drawing most attention, MoT testers will also be tasked with inspecting items the previously did not have to.
Some of these might come as a surprise - many motorists may have assumed, for example, that brake pad checks have always been a part of the MoT test - but testers will only begin inspecting these from now on.
The new items being checked comprise of the following:
• Obviously underinflated tyres
• Contaminated brake fluid
• Fluid leaks posing an environmental risk
• Brake pad warning lights and missing brake pads or discs
• Reversing lights on vehicles first used from 1 September 2009
• Headlight washers (if present) on vehicles first used from 1 September 2009 
• Daytime running lights on vehicles first used from 1 March 2018 - though this won't be relevant until 2021
• What are the new WLTP emissions tests?
Commenting on the changes, RAC spokesman Simon Williams said: "While on the surface this change, which is part of an EU Directive due to come into force in May, seems like a sensible move, we fear many motorists could end up being confused.
"Rather than MOT failures simply being black and white, the new system creates the potential for confusion as testers will have to make a judgement as to whether faults are 'Dangerous', 'Major' or 'Minor'.
"Motorists may also struggle to understand the difference between 'Dangerous' and 'Major' failures. The current system ensures that any vehicle with a fault that doesn't meet the MOT requirements is repaired appropriately before being allowed back on the road.
"We understand the Government has little choice in the matter, but gut instinct says if the system isn't broken, why mess with it?"
Do you think the new MoT failure categories will improve road safety? Join the debate in the comments...