'It won't be long before automatics outnumber manual car sales'
With over a million automatic gearbox cars sold in the UK last year, Steve Fowler assesses the case for the auto box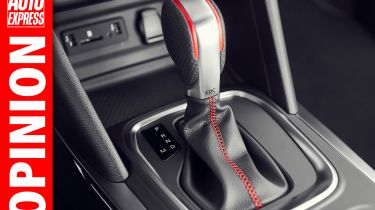 While many purists will cry foul when new performance models are launched with a faster, more efficient auto box in place of a manual shift, most car buyers don't seem to mind at all.
Crawling over the latest data from the Society of Motor Manufacturers and Traders, we discovered that back in 2012, 506,720 cars were registered with automatic gearboxes (be that standard autos, CVTs or semi-automatics). Five years on and the stats for autos in 2017 have more than doubled to 1,016,516.
• Manual vs automatic gearboxes - which should you choose?
Sure, over that time, registrations rose, too. But at that rate, it won't be too long before the sales of autos overtake those of manual cars. Especially as we see a rapid increase in the popularity of hybrid and fully electric cars – all of which are automatics.
All that has prompted a debate in the Fowler household that, currently, has two 17-year old lads learning to drive. They're learning in a manual, of course, and just about coming to terms with clutch control. And as I remember myself, it's probably the most difficult part of learning, before you get on to the more important aspects of becoming a driver.
So should they have just accepted that, eventually, most people will just be driving automatics and aimed at an auto-only test pass? Would they have less fun if they wanted to attend a track day? Well, I wouldn't say the McLaren 570GT I ran last year with a seven-speed dual-clutch auto was boring...
One of my lads' friends, having just passed his test, has gone straight into a cheap, small automatic car. His reasoning was that he'll have a black box in his car monitoring his driving, so if he didn't have to worry about changing gear and balancing the clutch, he could just concentrate on being a better driver. Smart guy. The latest autos are efficient, relaxing and can still make driving fun. And that's why I'm a big fan.
Now read about the best automatic cars on sale in 2018…