Personalised number plates at risk if cars are stolen or written-off
Undeclared personalised number plates go to insurance companies by default in the event of theft or write-off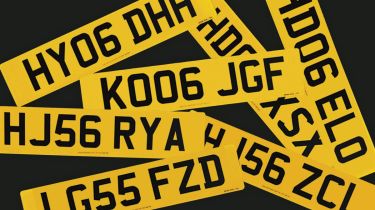 Owners of personalised number plates who fail to tell their insurers about a treasured registration are being warned they could face losing their plate if the car is written-off or stolen.
When an insurance company pays out for a written-off car, both the vehicle itself and its number plate become the property of the insurer. And while policyholders can opt to buy the plate back from their provider for no more than the settlement price, if the car has already been disposed of the rights to the number plate go with it.
• Average car insurance price reaches record high
Analysis of 302 car insurance policies found only 19 specifically covered the loss of a personalised number plate, with some policies only covering plates worth up to £200. Others had no limit on the value of the plate covered.
Getting a personalised plate back becomes even more complicated if a car is stolen and not recovered, as the Driver and Vehicle Licensing Agency (DVLA) will only re-issue a personalised plate 12 months after the car to which it was attached was reported stolen. Drivers will also have to prove the car had a valid MoT and was taxed at the time of the theft.
Matt Oliver from GoCompare, which carried out the analysis of insurance policies, said: "When you register a personalised plate to a vehicle you need to tell your insurer immediately, otherwise your policy could be invalidated and, particularly if you've paid a lot for a registration number, you should consider whether it's properly insured.
"A registration number is attached to the vehicle it is assigned to, not the person who purchased it. So, if you want to retain ownership of a cherished number plate you need to make sure your insurer knows, in the event of the car being stolen or written off, you want to keep it."
Now read about the number plates banned by the DVLA…