One in 13 cars has an outstanding safety recall
As many as 2.39 million cars have not had safety recall work done, according to official figures from the DVSA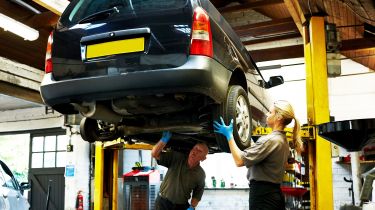 One in 13 vehicles has an outstanding safety recall, according to new data from the Driver and Vehicle Standards Agency (DVSA).
That ratio means as many as 2.39 million cars are driving around on UK roads without having had safety-critical recall work done, despite it being illegal for dealers to sell a car with an outstanding recall notice. Of the eight million used cars bought in 2017, an estimated 615,000 had recall work overdue.
• Outstanding recalls could risk MoT failures
Private sellers aren't covered by that law, however, while drivers who fail to have safety recall work performed face being charged with driving a vehicle in a dangerous condition. This carries a fine of up to £2,500 and three penalty points.
To help tackle the problem, the DVSA has launched a new online checker tool, which will tell drivers if a car has outstanding recall work. The tool only requires a vehicle's number plate to be entered for this information to be provided.
Gareth Llewellyn, the DVSA's chief executive, said: "It's an offence for a motor dealer to sell a car with an outstanding vehicle safety recall. They need to get it fixed before a car is sold. This new service allows you to check if a specific car has any outstanding vehicle safety recalls, making it potentially dangerous, simply by entering its registration number."
Meanwhile, Mike Hawes, chief executive of the Society of Motor Manufacturers and Traders (SMMT), highlighted how much simpler the DVSA's new system makes checking for safety recalls: "This new service makes it easy for drivers and potential buyers to check for outstanding recall alerts they or previous owners may have missed, giving them peace of mind their car is safe and reliable."
Now read about the safest cars on sale in the UK…