'Reports of the death of internal combustion are greatly exaggerated'
The idea that petrol and diesel cars are on the verge of being replaced by electric ones is nonsense, writes Mike Rutherford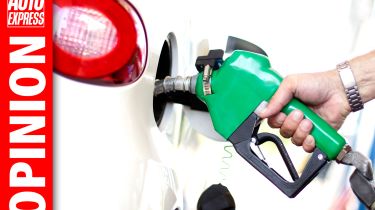 Why are international oil companies so quiet and seemingly relaxed about the alleged 'imminent demise' of the internal combustion engine? I'm talking about money-motivated corporate giants who've typically made billions in annual profits when serving drivers of petrol or diesel-powered vehicles.
It's nice work if you can get it, they've got it… and they're not letting go of it any time soon. If the usual suspects – the ecomentalist industry; here today gone tomorrow politicians; EV salesmen – get their way, internal combustion engines will soon be outlawed and the likes of BP, Esso and Shell will be forced to remove and destroy their redundant forecourt pumps.
• Check out the best electric cars on sale
Really? I don't think so. Our Conservative Government reckons (or does it?) that by 2040 petrol and diesel engines will be banned. But for various complicated reasons, I don't believe this official – for now – cut-off point can and will be achieved in Britain, never mind North America, Asia, Africa, mainland Europe (the 'East End' of the continent in particular), plus other parts of our increasingly small world.
And the fabulously wealthy oil giants and their armies of lawyers, analysts and lobbyists are even more confident than me that they'll still be selling fuel in 2040 and beyond. The fact is that for more than 100 years most vehicles have relied on internal combustion engines (ICEs). Also, the respected, independent, up-to-the minute research I'm seeing strongly indicates that for the next decade or so, possibly longer, ICEs will remain the most-wanted, biggest-selling power units for car drivers.
The renowned, Michigan-based Centre for Automotive Research goes as far as formally stating that even when entering the 2030s, "ICEs will continue to dominate with [an] approximately 80 per cent market share". And most of the other 20 per cent will not be pure-EVs but Toyota Prius-type petrol-electric hybrids.
A 2018 Deloitte study adds that Brit drivers are among the most enthusiastic for ICEs when choosing their next cars. It concludes that petrol or diesel remain the preferred choice of 73 per cent of motorists here, while petrol-electric motors are craved by 19 per cent. Put another way, 92 per cent want ICE or ICE plus electric units powering their next cars, while the remaining eight per cent are keener on 100 per cent electric, hydrogen or other alternative fuel motors.
Reports of the death of internal combustion engines have been greatly exaggerated. They're the preferred source of power in the 2010s and are predicted by unbiased observers to remain dominant throughout the 2020s, into the early 2030s, and possibly beyond. Forecourt pumps will be active for decades to come. Think otherwise if you like. But if you do you'll be kidding yourself.
Now read about BP's plans to install electric chargers at some of its forecourts as part of a new trial…