Consultation to be held into banning pavement parking
The Department for Transport has announced a consultation into banning drivers from parking on pavements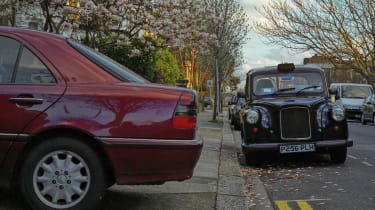 Drivers could be banned from parking on pavements, after the Department for Transport (DfT) announced a consultation on the controversial practice.
Motorists living in narrow streets often park on the pavement so that large vehicles, such as ambulances and fire engines, can get through. However, the Transport Select Committee raised concerns in a report last year that the practice puts pedestrians in danger by forcing them to step into the road and leaves vulnerable people, such as the elderly and the disabled, feeling trapped in their homes.
Now, the DfT has responded to the committee's report by saying it will hold a consultation into the matter, with a view to possibly introducing an offence of 'obstructive pavement parking' or 'unnecessary obstruction'. Specific changes to Transport Regulation Orders - which enable authorities to limit or prohibit the movement of traffic - may also be made.
Regardless of whether there is a change in the law, the DfT claims the consultation will raise awareness of the problems caused by pavement parking in both urban and rural areas.
While the Transport Select Committee welcomed the news, the group of MPs did express concerns that no date has been set for the consultation, so it's unclear how long it will be before any law changes might occur.
At present, pavement parking is banned in London, while Scotland is considering following suit. In 2015, the Government said it would look at the issue in England, but the resulting consultations and reviews did nothing to improve the situation.
Huw Merriman MP, the newly-elected Chair of the Transport Select Committee, said: "I am pleased the Government has taken on board the previous Committee's concerns about the very real difficulties presented by pavement parking and our proposed solutions.
"There is much to praise in this response and we particularly welcome the Department for Transport's intention to consult the public on how a ban on pavement parking would work for them."
He added: "We are putting the Government on notice that we will be monitoring progress carefully. We look forward to reviewing progress on each of the pledges and our committee has committed to a further evidence session in 12 months' time to drive real change."
Do you think owners should be fined for parking on the pavement? Let us know below...