Government weighs up ban on pavement parking
Consultation into parking on pavements considers three options, as practice puts people with disabilities, and others, in danger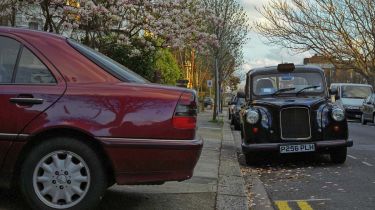 A consultation into pavement parking has been launched by the Department for Transport (DfT) in a bid to solve a problem that brings "inherent dangers for all pedestrians", particularly those with disabilities.
Current laws prohibit parking on pavements in Greater London (Scotland also has laws in the pipeline to outlaw the practice), save for where local authorities grant exemptions (for example on narrow residential roads), but elsewhere in England the practice is legal unless explicitly prohibited.
A Government survey to which 68 local councils responded saw 57 report pavement parking to be a "widespread problem", with councils highlighting those with visual impairments or who required mobility aids such as guide dogs and wheelchairs, were put at particular risk from vehicles parking on the pavement. People pushing children in prams and buggies were also highlighted as being adversely affected by the practice.
Some 95 per cent of visually impaired people report encountering problems as a result of vehicles parking on footways, a figure that rose to 98 per cent for wheelchair users, almost half of whom said pavement parking made this less willing to leave the house.
The Government is considering increasing local authority powers and current legislation to allow councils to issue £70 fines to owners whose vehicles are found to be "causing an unnecessary obstruction of the pavement".
Another option is a nationwide ban on pavement parking, although this would entail "the most significant change to English parking law in several decades", and also require all councils to conduct an audit of roads where exemptions would be required; one local authority estimated the cost of such an audit would run to £670,000. You can have your say in the consultation here.
Commenting on the consultation, Transport Secretary Grant Shapps said: "Parking on pavements means wheelchair users, visually impaired people and parents with pushchairs can be forced into the road, which is not only dangerous, but discourages people from making journeys.
"A key part of our green, post-Covid recovery will be encouraging more people to choose active travel, such as walking, so it is vital that we make the nation's pavements accessible for everyone."
Jack Cousens, head of roads policy for the AA, sais that while drivers "who deliberately parks in an obstructive manner and blocks the path of any pedestrian should expect to be punished", caution should be exercised with regard to an outright ban on the practice, as it could bring "a series of unintended consequences."
Cousens explained: "As we have seen over the past few weeks with road closures and narrowed roads, councils have acted with little consultation and in many cases lost confidence of the communities they serve. Local authorities should make a street-by-street assessment and where pavement parking is allowed, markings should show how much pavement can be used. While councils have always had the powers to tackle problem parking, it would be typical if the only time they act is when there is fines income to be had from it."
Now read our guide to appealing a parking ticket here...