Half of drivers say speeding is acceptable
Research finds 50 per cent of motorists consider it ok to break the speed limit, while vast majority admit to speeding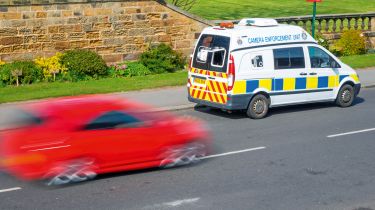 Speeding is considered acceptable by 50 per cent of drivers, new research has revealed. A poll of over 2,000 motorists also found that 78 per cent of drivers admit to speeding, with five per cent saying they break the speed limit every time they drive.
The research, carried out by insurance company Direct Line, found the average breaches that motorists consider acceptable include driving at 79mph in a 70mph zone, 56mph in a 50mph zone, and 26 mph in a 20mph zone.
• Speeding offences hit six-year high
Nearly two-fifths of the surveyed drivers said they had been caught speeding, with average breaches of 37mph in 30mph zones, and 61mph in 50mph zones.
Asked why they broke the speed limit, 51 per cent said they did it because the were not aware how fast they were travelling, while 34 per cent said they deliberately sped when roads were empty.
A further 19 per cent said they broke limits when running late, and 14 per cent said they travelled at excess speed in areas with no speed cameras.
Direct Line's director of car insurance, Rob Miles, said: "Speeding is one of the biggest causes of accidents and casualties on UK roads.
"The research suggests it is often not deliberate, as drivers may be unaware they are creeping above the limit.
• Driving licence penalty points fall by 27 per cent
"However, speed limits are set for a reason and 20mph and 30mph zones are often around schools, hospitals and other highly pedestrianised zones, where going over the limit could prove fatal in the event of an accident."
A spokesman from the road safety charity IAM RoadSmart said: "Sadly, IAM RoadSmart are not surprised by these findings as our own research suggests that the majority of drivers are happy to break the limit on motorways. What is new, and more worrying, is to see similar figures for urban areas.
"Drivers need to take more personal responsibility to avoid becoming one of the millions caught every year. A speeding conviction should never be considered the norm."
Read our guide to speeding fines and how you can appeal them…