Highways England to test "in-vehicle signage" on A2 and M2
Trial for connected and autonomous vehicles will display road signs on screens inside cars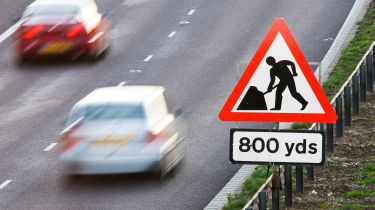 Motorway gantries and road signs could one day be replaced by in-car digital screens, after Highways England announced it is to trial new "in-vehicle signage" systems.
The project will see "information that would traditionally be shown on roadside signs, such as speed limits" sent over the air to screens inside cars. Highways England thinks the move will improve safety, and could ultimately lead to some overhead motorway gantries being removed.
• England's best and worst service stations revealed
Drivers would also be warned of upcoming roadworks, enabling them to change lanes in order to improve traffic flow.
The system will make use of 5G cables running down the central reservation of the A2/M2 between London and Dover. While future projects could enable cars' infotainment screens to display information, the scope of the pilot scheme means only specially-equipped test vehicles will receive the data.
Some motoring organisations have voiced concern over replacing gantries with screens, however. Steve Gooding, from the RAC Foundation, cautioned that physical signs provide "the perfect back-up for when the high-tech solution fails".
Gooding added: "While having still better, faster real-time journey information displayed in-vehicle is a good thing, we're a long way from having technology in every vehicle that completely replaces the reassurance we get from having a permanent sign."
Highways England, the government-owned company responsible for 4,300 miles of motorways and trunk roads, plans to begin testing the screens in November, with the trial projected to last until December 2020. The screens are part of a larger project between the UK, the Netherlands, France and Belgium, which aims to create safer, more efficient roads.
Read: robot traffic cones could shrink the size of roadworks...