'The slow withdrawal of car dealers has already begun'
Car dealerships are going the same way as defunct high street retailers, believes Mike Rutherford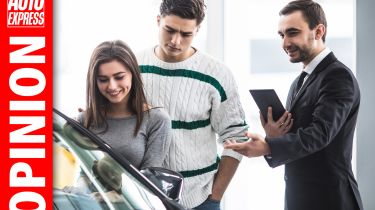 At the centre and surroundings of the High Street you'll see evidence of major retail outlets going or gone. Much of the talk has concentrated on deceased or depleted department store chains such as BHS and House of Fraser.
But there are casualties among DIY retailers (Focus and Homebase) and in countless other areas – from Borders to Blockbuster, MFI to Maplin, Tie Rack to Toys R Us.
• Opinion: 'We should demand hefty discounts from dealers'
Put another way, all sorts of household-name shops, stores and showrooms selling a colossal variety of goods are now dying or dead – despite high public demand for products. Who's next to disappear? New car dealers or dealership chains, I believe. Actually, their slow withdrawal has already begun.
A high street I know well has had its franchised Nissan outlet turned into a McDonald's; its official Peugeot showroom has become an abandoned shell; what was the nearby Hyundai, then Suzuki franchisee is now an apartment block in waiting.
I'm convinced that many more traditional new car showrooms will soon become almost as relevant as Blockbuster shops selling and renting DVDs or Comet stores piling up and punting out washing machines.
Just as we no longer need to schlep to shopping centres to speak with/get advice from/place orders with a travel agent, there's increasingly little purpose in us visiting the car salesman (they're usually men) on his traditional turf. A car buyer no longer requires a face-to-face meeting with a booted and suited, sales-spieling bloke who recommends, then takes a written order for the new car he wants you to buy at the price he says you must pay.
No need. The clued-up consumer knows better than the salesman the model and spec of the car they want, plus how large the discount should be.
Let's have more small, touchy-feely, display-only facilities for new cars; no-commission delivery drivers bringing demonstrator vehicles to us at home or work; improved online ordering systems; customer collection points at vehicle factories and import centres; a new network of giant vending machines spitting out cars to customers who've prepaid and are therefore in possession of the relevant high-security access key, code or fingerprint.
If we could somehow bypass the traditional franchised showrooms we'd instead buy direct from the manufacturers. In doing so, most of our cars would surely be thousands of pounds cheaper because we'd avoid expensive middle men such as the salesman seeking his commission, never mind the dealership owner who wants his fat profit margin.
Read Mike's previous column: 'Britain's roads are busier than our neighbours', and it's not fair'