'Are car firms' profits really that excessive?'
Toyota made $22.5billion in 2017, but that might not be as exorbitant as it seems, writes Mike Rutherford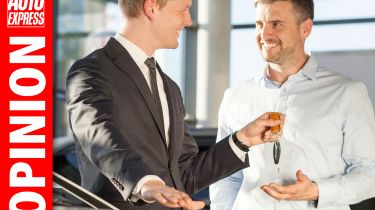 Concerned about the profits that companies make for themselves – at your expense? You should be.
If profitability is excessive, it's usually a case of plain greed on the part of a firm that can easily afford to lower its retail prices. Apple, with a $48,000million ($48billion) profit figure in 2017, proves my point.
• Opinion: companies are scheming to empty drivers' pockets
But at the other end of the scale, low or zero profit can mean little or no money for research, future products, staff development and other important stuff. Worse still, a company that regularly loses money can be deemed insolvent/bankrupt/dead/buried. Think of MG Rover, Saab, Daewoo; all three of those car manufacturers are now toast.
So is Toyota's $22.5billion profit in 2017 OTT? And what about VW Group's $13.1bn, or Mercedes' $11.9bn? Before answering that question, remember that some firms in the communications, electronics, finance, technology, tobacco and other industries are more or much more profitable.
BMW ($9.7bn) joins Toyota, Volkswagen and Mercedes in the automotive top five for profitability, as does Honda ($9.5bn). Next come Ford ($7.6bn), Nissan ($6.7bn), Renault ($5.8bn), SAIC ($5bn) and Hyundai ($3.6bn).
In this, the volume car business, Subaru is a tiny player with the lowest gross revenue. But those facts didn't stop the little Japanese firm making a surprisingly healthy annual profit of $2.0bn last year, putting it ahead of Suzuki ($1.9bn), Beijing Automotive ($1.6bn), Dongfeng ($1.4bn) and Tata ($1.4bn). Still, all these Asian firms comfortably exceeded the psychologically important $1billion profit-per-annum threshold.
Mazda only just made it over that $1bn line. Surprisingly and, interestingly, Kia didn't, due to a surprising and worryingly low figure of $856million.
But at least the Korean firm has its wealthier Seoul brother, Hyundai, to offer a financial helping hand if needed. The isolated minnow that is Mazda has no such cash-rich family member to rely on.
But the current financial concerns of Mazda and Kia are nothing when compared with those suffered by General Motors, which lost billions in 2017. In doing so, the American corporation has given itself the dubious honour of being one of the top 10 money-losing firms on the planet.
How this company pulled in colossal gross revenues in excess of $150bn for the year, then managed to end up with a 'profit' figure of minus $3.9bn, is beyond me. And, I suspect, the bewildered customers who paid mid-to-high prices for GM vehicles, such as Buicks, Cadillacs and Chevrolets.
Read Mike's previous column: 'The slow withdrawal of car dealers has already begun'