New anti-tailgating campaign launches to target dangerous drivers
Highways England says up to 90 per cent of motorists have been tailgated or seen it happen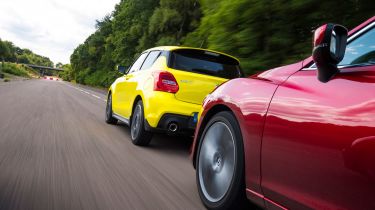 New data published by Highways England suggests that up to one in eight of all road casualties in Britain are caused by motorists driving too close to the vehicle in front, accounting for more than 100 deaths or serious injuries on major roads in the UK ever year.
Widely known as tailgating, Highways England says that a fresh crackdown on the dangerous practice is necessary given that the overwhelming majority of tailgaters commit the offence unaware that they are potentially putting themselves and others at danger. A new road safety campaign themed on the well-known Space Invader arcade game has launched, communicated through a new television advert.
The government agency says that tailgating is considered by drivers to be the most irritating thing about other road users. According to the organisations latest research, 90 per cent of drivers say they have been tailgated or have seen it, while just over a quarter of drivers admitted to tailgating in the past.
In-car research into the mental impact of being tailgated has been carried out too, using dashcams, facial recognition, emotion tracking and heart monitors. The most common reactions to being tailgated are surprise, anger and contempt, while research consistently recorded a spike in heart rate of those monitored.
Richard Leonard, Head of Road Safety at Highways England, said: "Tailgating makes the driver in front feel targeted and victimised, distracting their attention from the road ahead and making them more likely to make a mistake.
"It is intimidating and frightening if you're on the receiving end. If that leads to a collision, then people in both vehicles could end up seriously injured or killed. We want everyone to travel safely, so the advice is - stay safe, stay back."
What do you think of the tailgating problem on UK roads? Let us know in the comments section below...