'Roadside police shouldn't be able to revoke a driver's licence'
It seems humble front-line cops have been given the OK to snatch licences from drivers, says Mike Rutherford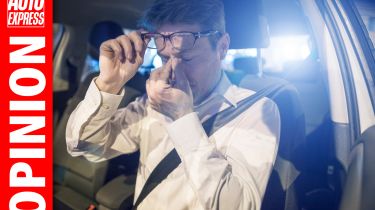 Imagine a Britain in which someone called a "policing officer" is given the power to stop Brits and non-Brits in the street, before immediately and cruelly revoking the passports, ID cards and other essential documents those citizens legally hold, whether they've committed crimes or not. 
It shouldn't, couldn't and wouldn't happen, of course. Yet it seems humble front-line cops on public highways (not to be confused with more powerful magistrates and judges in court rooms) have been given the legal OK to snatch back driving licences from some drivers who've held them for years, if not decades. This I do not like the sound of.
• Best and worst police cars from around the world
Brake, the road safety pressure group, is excited it's "teaming up with police forces in Thames Valley, Hampshire and West Midlands to run a month-long campaign on driver vision, revoking the licences of those who don't pass the 20-metre number plate test".
Can cops do that? Really? Act as on-the-spot judges, jurors and executioners? Apparently so.
"Anyone stopped by road policing officers in these areas will be required to take the 20m number plate test," Brake insists. Those failing will have their licence "immediately revoked".
I passionately believe prevention is better, wiser and healthier than cure, and support (via the Marcus Rutherford Foundation) the idea of annual health checks – to include sight tests – for rich and poor, young and old, drivers and non-drivers.
But surely these tests must only be carried out by experienced and qualified practitioners in, for example, the NHS, the private healthcare sector plus the giant, easily-accessible optometrist industry? So if a yearly eye test is the thing to do – and it is – let it be done in controlled, stress-free circumstances by specialists at your local high-street optician, GP surgery, healthcare centre or hospital.
Let's not dump the problem on already-stretched front-line cops and expect them to do the work better-qualified professionals should be doing. And, equally important, if the vision of a driver has sadly deteriorated so seriously they have formally been declared unfit to drive, let that life-changing news be gently delivered to them by a doctor in a quiet surgery, not by a PC on a noisy street.
Brake's claim it "joins forces with police to rid roads of defective driver vision" is plain wrong. A handful of randomly chosen drivers having their eyesight crudely checked by a few cops on a comparatively small number of streets will hardly "rid" Britain of defective driver (and rider and pedestrian) vision. Quick, convenient, cost-effective, yearly health checks and eye tests for all UK citizens will. Think of 'em as annual MoTs – for people.
Now read our news story 'Police to start roadside eye tests for drivers'