'Britain's luxury and sports car brands are thriving'
Steve Fowler thinks Rolls-Royce, Bentley, McLaren and Aston Martin are leading the way in the luxury and high performance sectors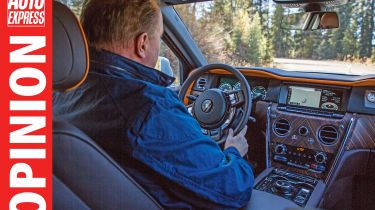 In spite of what commentators refer to as 'economic uncertainty', the luxury car market seems to plough on regardless. No matter what state the economy is in, it remains in rude health. Wealth, it seems, can weather most financial storms.
And that's great news for the UK, which still leads the way in terms of luxury and high performance (and a combination of the two) car brands.
• Best of British: Rolls-Royce, McLaren, Lotus, JLR and more
Last week I entered the world of Rolls-Royce, driving the new Cullinan SUV – you can see the video below or on the Auto Express YouTube channel. It's a car that's divisive for some, but not, it seems, those who can afford such a thing. It's sold out.
Rolls-Royce's understanding of its clients' wants and needs has led it to produce an SUV that delivers exactly what they want – it's a stunning achievement.
This week it's the turn of McLaren to reveal what the company calls a Hyper-GT – the £2.1million Speedtail. The Woking company has thrived under the leadership of Mike Flewitt, producing a string of outstanding sports cars that are a hit with us and an increasing number of buyers. Financially, McLaren is a massive success.
Meanwhile the Aston Martin revival continues apace, with the excitement of seeing and driving the latest models matched by the thought of what's coming up in the coming years.
Likewise, Bentley – now under the leadership of another Brit, Adrian Hallmark. It continues to grow with a range of beautifully made and great to drive cars that seem to complement, and not necessarily compete with, other British luxury marques.
And one to watch? How about Lotus? Now owned by Chinese company Geely (look at what it has done with Volvo) and with former Land Rover boss Phil Popham at the helm, it's another British brand with exciting times ahead.
Do you think Lotus has an exciting future? Let us know your thoughts below...