Highways England chief questions safety of in-car touchscreens
Highways England chief executive says: "We need to think about touchscreens with small, fiddly buttons"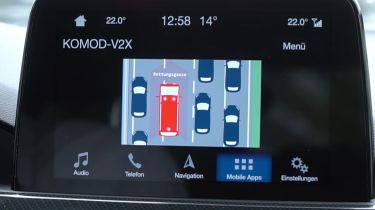 England's head of motorways has questioned the safety of in-car touchscreens. Jim O'Sullivan, chief executive of Highways England – the organisation responsible for English motorways and strategic A roads – told an audience in London "we don't like" in-car touchscreens for safety reasons.
The European Commission estimates between 10 and 30 per cent of accidents are caused by driver distraction, while carmakers have migrated buttons for everything from heating and air conditioning, to radios and sunroofs, to touchscreens.
• Apple CarPlay: everything you need to know
O'Sullivan voiced concerns over these trends, saying: "Clearly we need to think about touchscreens with small, fiddly buttons" adding "we don't like them from a safety perspective."
O'Sullivan was responding to a question about how motorways could be digitised without alienating drivers who are less technologically adept.
Highways England is currently testing new "in-vehicle signage" systems that will display information normally seen on motorway gantries and road signs on vehicle infotainment screens.
The pilot scheme only allows specifically-equipped test vehicles to receive the data, and it is unknown how long it will be before the technology can be used by motorists and replace traditional signage.
O'Sullivan said systems such as voice activation should be implemented to ensure user interfaces are "intuitive" and "look familiar", before going on to make his comment regarding touchscreens.
Previous research has found programming a sat-nav has the potential to be as distracting as using a mobile phone. While using infotainment screens in cars is not prohibited by law, if police consider a motorist's standard of driving has been adversely affected by an in-car distraction they can bring a charge of driving without due care and attention, which carries a penalty of three to nine points and a fine of up to £2,500.
Do you think touchscreen controls in cars are safe? Let us know in the comments...