'Our responsibility to new drivers is falling short'
Editor-in-chief Steve Fowler thinks more needs to be done to support drivers who have just passed their test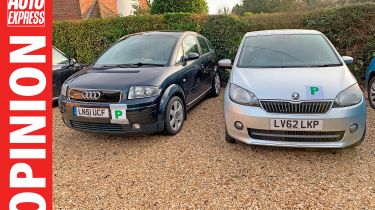 It's been a momentous month for the Fowler family; our driveway has got a lot more crowded due to our twin boys passing their driving tests within weeks of each other. It gets even busier when their 'just passed' mates come round, too.
This has started a frenzy of car activity, extra expense and parental worry, with two lads and their new-found freedom. It remains one of the greatest feelings in the world, with the opportunity to explore new places and increased social activity. I remember it well.
• Intensive driving courses: the ultimate guide
There's plenty I can do to help, practising what we preach in the pages of this magazine. For example, I've replaced the questionable choice of tyres previous owners decided on with Continental rubber; the brand swept the board at our tyre tests last year. I've also fitted Nextbase dash cams to both their cars (these devices are multiple Auto Express award winners, too).
As far as the lads themselves are concerned, they're both signed to up to IAM Roadsmart Young Driver Assessments (alongside my older daughter, who's been driving for a couple of years now). They're all keen to extend their learning and see the benefits – as I do – of aiming for full IAM Roadsmart membership to make them better drivers, as well as potential insurance savings.
It's vital to arm new drivers with the tools they need to stay safe on the roads, in terms of the cars they're driving as well as the attitude of the person behind the wheel.
• The history of the driving test
But talking to my lads and their friends, they say we have a system that is good at producing a test that's increasingly difficult to pass (not a bad thing), but they're then dumped onto the roads with no further support. No online tools to continue their learning or answer questions, and no guidance on how to buy a decent car, keep it safe and well maintained.
The stats surrounding new drivers speak for themselves; more needs to be done to keep them safe. We'd like the DVLA to extend its responsibility beyond the day when people pass their test.
Do you agree with Steve? Do you think more needs to be done to support new drivers? Let us know your thoughts below...