70 per cent of drivers don't know how to merge in turn
Nearly three-quarters of drivers aren't aware they should zip-merge when motorway and dual carriageway lanes reduce in number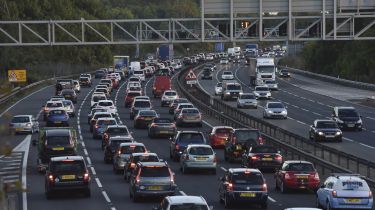 Nearly three-quarters of Britain's motorists don't know how to merge-in-turn properly, new research has revealed.
A survey of 22,000 British drivers found 70 per cent were not aware of Highway Code rules for merging in turn when a lane closes on a motorway or dual carriageway.
• Record number of drivers take speed awareness courses
So while zip-merging - allowing one vehicle from each lane to enter the remaining lane alternately - is a common concept in America, the majority of British drivers believe they should get into the remaining lane "as soon as possible", a method that has been proven to significantly increase congestion.
Highway Code Rule 134 states that motorists "should follow the signs and road markings and get into the lane as directed". It adds that in "congested" conditions, drivers should not "change lanes unnecessarily". Drivers are also reminded that merging in turn is "recommended but only if safe and appropriate when vehicles are travelling at a very low speed".
• Officer cuts have left roads like 'Wacky Races' says police chief
Of those surveyed, a mere 27 per cent knew that zip-merging is the correct procedure, while three per cent were under the impression that it's acceptable to straddle two lanes in order to block other drivers from passing.
The survey, by Halfords Autocentres, also revealed that 36 per cent of motorists haven't read the Highway Code since passing their driving test, while 20 per cent admitted it had been over a decade since they picked it up.
Andy Randall, managing director of Halfords Autocentres, recommended drivers get ready for the half-term break by "refreshing their knowledge of the Highway Code".
What is zip-merging?
Zip-merging is the practise of merging two lanes of traffic at the point of the lane closure closure as opposed to indicating and merging as soon as possible.While it may seem like polite etiquette to merge early on, this creates a long single lane traffic jam and leaves the closed lane empty for a longer distance than necessary.
While zip-merging is common practise in other countries such as America and New Zealand it has not yet taken off in the UK. While UK motorists may think they are doing the right thing by moving across early it is arguably more beneficial to keep both lanes of traffic moving until the point of merging. Also by merging early, drivers get annoyed when they see other motorists using the empty lane to get ahead of them in the traffic by merging further down the road.
A lack of driver education about zip-merging could be the reason why many Brits do not use this trick although studies have shown that it can increase traffic flow as it creates two lanes of slow moving traffic rather than one lane of stationary traffic.
What are your thoughts on zip-merging? Let us know in the comments below...