'Car makers need to work hard to stay relevant in the new world'
Editor-in-chief Steve Fowler thinks some car companies might not survive if they don't adapt to the new world of mobility services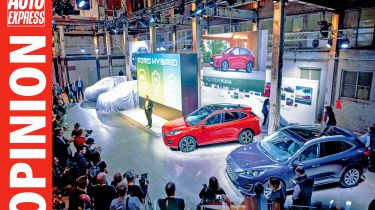 I'll admit to heading to Ford of Europe's Go Further event in Amsterdam with a degree of trepidation. Here is a brand that, while still topping the UK sales chart, is a pale shadow of its former self.
Its products no longer have the desirability they used to have – and certainly don't win as many of our group tests. And the financial woes of the company's European arm have been well documented, with some industry watchers wondering whether this US giant might go the way of GM and exit Europe altogether.
• Ford announces job losses in UK and Europe
I left with far more confidence over Ford's future, even a level of excitement about the products that I haven't felt for a while. There's some great stuff coming.
But perhaps what impressed me most was a chat with Sarah-Jayne Williams, Ford's director of smart mobility. The brand has set up its own tech hub in London to plan and trial services that will transform it from a car maker to a mobility provider. Williams didn't need long to convince me that Ford is taking this industry inevitability more seriously than many others. Those who stick their heads in the sand about this tech, which legislators are demanding, could see sales and revenues dwindle fast.
It was a strong theme at last week's Society of Motor Manufacturers and Traders Connected conference, too, with Toyota Connected Europe CEO, Agustín Martín, also reiterating how his firm was transforming "from an automobile company to a mobility company".
Meanwhile, Aston Martin boss Andy Palmer warned that companies that didn't adapt to change would fail. "Many could fall under the wing of bigger firms so we have just two or three mega-companies dominating, becoming the Boeing and Airbus of the car industry," he said. "You will see fallout. We'll see newcomers coming; some will succeed, some will fail."
The message is simple: the car companies that don't adapt to the new world of mobility services might not survive.
Do you agree with Steve? Do you think car makers need to adapt to stay relevant in the new world?