Now electric car drivers can use 400 UK chargers with one app or card
Energy company Vattenfall and EV charging solutions provider NewMotion sign roaming agreement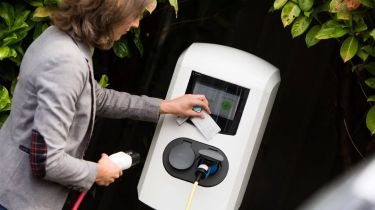 Electric car drivers will be able to access 400 UK charging points using a single payment method, thanks to a newly signed deal.
Energy company Vattenfall and EV charging solutions provider NewMotion have made a roaming agreement allowing drivers to access each of their charging networks using one app or payment card.
NewMotion, which is part of Shell Group, has one of Europe's largest EV charging networks, with around 118,000 chargers across the continent, while Vattenfall also operate chargers via its UK subsidiary InCharge. Together, the two firms are offering access to around 400 pubic UK charging points with a single payment method.
Although there are a total of around 25,000 public EV charging points in the UK at present, only a very small minority fall under roaming agreements, meaning drivers are often forced to keep several different apps and cards in order to pay for electricity.
Vattenfall and NewMotion's roaming agreement comes into effect in September. The two companies say they are looking into the possibilities of expanding the partnership after this.
Anthony Hinde, director of InCharge, commented: "The UK EV driver experience has just got that little bit simpler. What is the norm in many European countries – seamless, simple, flexible public charging options as a result of roaming agreements between operators – is still a rarity in the UK. Our agreement with NewMotion is therefore an important step forward and will encourage the uptake of EVs in the UK."
• Electric car charging points to be installed in every new home
Sytse Zuidema, CEO of NewMotion, added: "Access to good charging infrastructure is a key consideration for drivers before they make the switch to driving an electric vehicle. Roaming agreements between charge point operators help to create a charging network where it's easy to charge at any provider's charge point.
"With this roaming agreement we both take the lead in creating a wider accessible charging network and make it easier for EV drivers to connect to the charging infrastructure in the UK. We welcome Vattenfall's EV drivers to our charging network, which is already Europe's largest network with over 118,000 charge points in more than 30 countries."
Would you like to see all charging points available via a single payment method? Let us know your thoughts below...