'Dyson's electric car woes show that going it alone is tough'
The sad scrappage of Dyson's electric car plans show just how tough the car industry is to crack, says Steve Fowler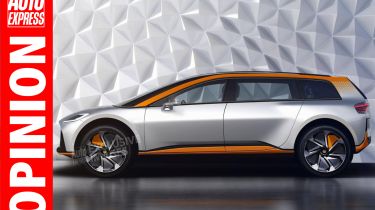 There was a sad and unnecessary tone of  "I told you so" within some areas of the automotive industry when news broke that Dyson had pulled the plug on its plans for an electric car. 
It's hugely sad for those involved, but it does reveal, yet again, how hard it is to make the car business work.
I remember former General Motors CEO Dan Akerson talking about a rumoured Apple car back in 2015 and saying: "They'd better think carefully if they want to get into the hard-core manufacturing. We take steel, raw steel, and turn it into a car. They have no idea what they're getting into if they get into that."
A bit blunt, but clearly – as the demise of some big names over the years has proven – running a car business is tough. And starting one from scratch? Even tougher. My hope is that the Dyson news doesn't put off entrepreneurs and companies from entering the car market – especially in this new era of autonomous, connected, electrified and shared (ACES) vehicles.
Thankfully, we're not short of new brands promising great things. We'll see Lynk & Co – with the backing of Volvo and Geely – in the next couple of years, while Pininfarina is taking on the supercar elite under the wing of the giant Mahindra group. Rivian has support from Ford and Amazon, while Byton has significant Chinese backing. Going it alone is not the best option.
Unless you're Tesla... This week's news about Dyson also highlights the incredible job Tesla has done over its relatively short lifetime with little involvement from (but a lot of watching by) established automotive players. 
Sure, there are plenty of people who question the firm's sustainability and whether it will ever make money; Bob Lutz, another former GM boss, said only a year ago that Tesla was "heading to the graveyard". But the firm is still here, making award-winning cars and shaking up the market like nothing else. Let it be an inspiration to more start-ups.
Do you agree with Steve's comments? Let us know in the comments below...