Government urged to scrap VAT on electric cars
AA calls on Government ministers to scrap VAT on electric cars after Brexit to make zero-emission vehicles more affordable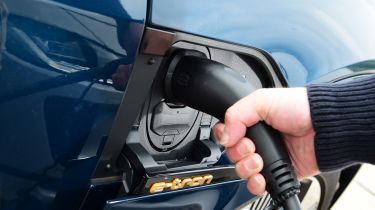 The Government is being urged to scrap VAT on electric cars after Brexit, making them more affordable for drivers.
The AA argues that by getting rid of VAT on the purchase price of electric cars and also scrapping it on EV leasing costs, there would be an increase in the uptake of zero-emission vehicles.
While the UK is a member of the EU, the Government cannot charge VAT at any rate lower than 15 per cent without the agreement of all other member states. With the UK set to leave the EU on 31 January 2020, though, this should cease to be an obstacle.
In a survey of 17,500 AA members, 61 per cent said the Government scrapping VAT on the purchase price of electric cars would be an "influential" step in getting them to move away from combustion-engined vehicles, while 28 per cent of respondents from low-income households said it would be "very influential".
Of the survey respondents aged 18-24, 74 per cent said such a move would encourage them to buy an electric car, making them the age group that was most keen. At the other end of the scale, 59 per cent of over-65s felt the same way.
Londoners are the most likely to take advantage of such a scheme - 67 per cent of them to be precise. In contrast, only 56 per cent of respondents in the north-east would be tempted.
Interestingly, 51 per cent of respondents said they would like to see a scrappage scheme introduced to encourage people into electric cars, while 40 per cent supported the idea of removing VAT from EV leasing prices.
With electric cars often having a higher purchase price than their petrol or diesel counterparts, the AA also wants to see the premium Vehicle Excise Duty (VED) rate for cars worth more than £40,000 scrapped for zero-emission vehicles.
Edmund King, president of the AA, said: "The UK car parc needs a shock to the system. Eight out of 10 drivers say improving air quality is important to them, but they are confused by current policies and, as such, many have stuck with older, more polluting cars.
"A combination of the climate change emergency and local councils setting up vastly different Clean Air Zones means that many drivers feel under pressure to change but can't, no matter how much they try.
"With EVs making up just 0.2 per cent of the nation's cars, there is a long way to go to meet the official target of at least half new car sales to be ultra-low emission by 2030. Our proposal would help to achieve that goal more quickly. Drivers want to amplify their wishes to go electric. We hope by plugging this idea the country will unite and deliver positive change."
Do you think the Government scrapping VAT on electric cars is a good idea? Let us know your thoughts in the comments below...