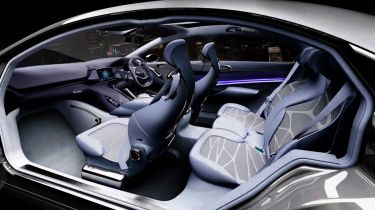 Odometer is the mileage counter on the car. Often this is mounted in the speedometer and is digital in most modern vehicles. These still aren't tamper-proof, though – dodgy dealers are still clocking cars.
On-board Computer displays numerous aspects of the vehicle's performance and economy. It includes current range, average and current mpg, trip distance and travel time.
Overdrive is a gear that's optimised for fuel efficiency. Select it, and the engine turns at lower revs per minute to maximise economy.
Park Assist is a system which uses the parking sensors in conjunction withthe electric power-steering to manoeuvre the car into a parking space automatically. All the driver has to do is operate the accelerator and brakes.
Parking Sensors use ultra-sonic technology to judge the distance to an object and relay this information to the driver by either audible or visual warning.
PerfoHub is Renault's unique front wheel hub, designed to combat torque steer. Engineers reduced the distance between the wheel and hub centre, so the turning force created (torque steer) is reduced.
Power Doors use electric motors to open and close the doors and tailgate for users. 'Soft-close' features on some luxury cars prevent the doors from slamming shut.
Prefill is a function of the Dynamic driving mode of Alfa Romeo's DNA system. The braking system is pressurised in advance of heavy braking by monitoring the speed at which the accelerator pedal is released.
Pre-Tensioners in seatbelts pull occupants back into the seat when sensors in the car detect an imminent impact. This removes any slack from the belt and moves the occupant into an optimum seating position.
Quad Zone climate control usually features on luxury cars, and enables all occupants to set the temperature for their part of the interior. The system maintains this temperature.
Rear-View Cameras are small, wide-angle, rear-facing cameras that show the live view behind the car. They also superimpose a grid on the image to help with manoeuvring.
RevoKnuckle is Ford's take on Renault's PerfoHub and Vauxhall's HiPerStrut. Fitted to the Focus RS, it reduces torque steer and allows more power through the driven front wheels.
Road-Sign Recognition uses smallcameras to scan for road signs and then display them on in-car screens. This technology can also be used to adjust cruisecontrol in line with limits.
Run-Flat Tyres, fitted to BMWs, have reinforced sidewalls that can support the car's weight when deflated, letting you drive at moderate speed after a puncture.
On the next page: S to Z