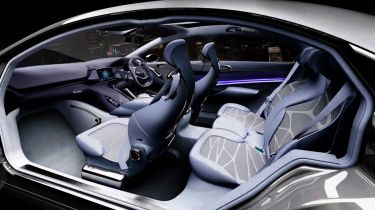 Accident Avoidance Systems use sensors to detect other vehicles and obstacles, and apply the brakes (before the driver does) in order to avoid collisions or minimise the speed of impact.
Active Aerodynamics incorporate moving parts to adjust a vehicle's 'drag' and improve air flow. They include self-deploying spoilers and air-intake vents that can be closed if the engine doesn't require cooling.
Adaptive Headlights move the beam of light in line with the steering, either by moving parts in the headlamp unit or lighting individual foglamps to illuminate the inside of a corner.
Anti-Hijack Systems lock the doors automatically when a car goes above a certain speed – usually about 5mph. The set-up stops anyone opening the door from the outside, thus preventing car-jacking.
Anti-lock Braking Systems have been compulsory on all new cars sold in the EU since 2007. They work by monitoring the speed of each wheel and automatically adjusting brake pressure if a skid is detected.
Auxiliary Input is a way of connecting your MP3 player or other external device to the car's stereo. This can take the form of a headphone jack, USB port or memory card slot.
Blue&me is Fiat's in-car infotainment system, which incorporates hands-free satellite navigation, plus a Bluetooth connection that allows drivers to make hands-free phone calls and stream music from a smartphone. The package also records driving data that can then be used to help owners improve their fuel economy.
BlueTEC is a term used on ultra-clean Mercedes diesels. They have engine management upgrades, high-pressure injectors, particle filters in the exhaust and special catalytic converters to reduce emissions.
Bluetooth is a form of wireless connection used to pair a mobile phone with other devices, like headsets or car radios. It's mainly for making calls, but can also be used to stream music.
Brake Energy Recuperation collects energy usually lost during braking, and uses it to recharge batteries or power air-con, reducing engine load and improving economy.
COMAND, short for Cockpit Management and Data system, is Mercedes' own control centre for built-in satellite navigation and Bluetooth – and it can even be used to play DVDs in the car.
Climate Control is an option on most cars where the driver sets a specific temperature and the system automatically adjusts heating, air-conditioning and fan speed in order to reach that temperature.
Ceramic Brakes are generally fitted only to high-performance cars. The ceramic material in the set-up operates at extremely high temperatures without brake fade. Ceramic brakes are lighter but far more expensive than standard ones.
Cruise Control maintains the speed of the vehicle as set manually by the driver. Adaptive cruise control is even more intelligent: sensors maintain a set distance from other, slower-moving vehicles.
CDTi stands for common-rail diesel turbo injection, and most makers have their own take on it. The set-up uses a single high-pressure reservoir to feed the individual injectors for each of the engine's cylinders. It improves economy and power, plus reduces noise.
On the next page: D to H