SEAT eyes Renault lap record with lighter Leon Cupra
SEAT plotting stripped-out rival to Renaultsport Megane 275 Trophy-R to steal back Nurburgring record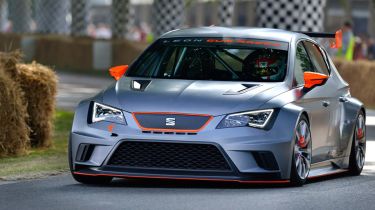 On the same day that Renault announced its new Renaultsport Megane 275 Trophy-R has claimed the front-wheel drive Nurburgring lap record - eclipsing the SEAT Leon Cupra's time by four seconds - SEAT has revealed plans for a stripped-out track-focused version to steal it back.
"Yes Renault have the record, but it's a very different type of car to ours," Sven Schawe, manager of chassis development for the Leon Cupra, told us. "If we removed parts from our car, it's only four seconds, I'm confident we could beat it.
"We have to see if it makes sense to offer a car like this to our customers, there needs to be a series car behind it and we need to see what the customer says," Schawe added.
The plan is more than just an idea though. "We already have a car like this," Schawe revealed, proving SEAT is poised to give this hardcore Cupra the green light.
"We wanted to offer a car that's for everyone, that's not limited. Now we need to decide if we want to continue this competition with Renault," he said.
The SEAT Leon Cupra that set the time of 7 minutes and 58 seconds was fitted with a performance pack, which will be offered to customers from July. For around £2,500 it adds bigger Brembo brakes, lightweight 19-inch wheels, side skirts and semi-slick Michelin Pilot Sport 2 tyres.
If this more focused version makes production, expect more aggressive suspension settings and up to 100kg of weight savings by ditching the back seats and removing sounds deadening. A power boost to 296bhp isn't out of the question, either.
However, Schawe confirmed that he won't be turning to four-wheel drive: "We have considered it, sure, but even with more power front-wheel drive is lighter, cheaper and faster. If you have €6,000 more to spend you can always buy a Golf R."