"Motorists may be fooled into believing car theft is rampant. But it isn't."
It was only a matter of time before scaremongering about car crime returned, says Mike Rutherford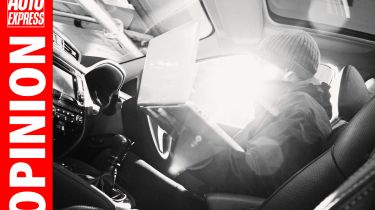 I thought it wouldn't be long before car crime hit the headlines once again, and everyone from Tracker (with tons of security devices to sell) to the BBC's Watchdog programme (viewers to win) is scaremongering about car theft.
Meanwhile, elements of the insurance industry disgracefully suggest some prestige models will be refused cover. In turn, the motorist may be fooled into believing car theft is rampant. But it isn't.
True, vehicles still get stolen. But let's put the problem in perspective, eh? According to the United Nations, Britain is not even a Top 20 car-thieving country. Meanwhile, our own Office for National Statistics says thefts have fallen 55 per cent in a decade.
• "Car buying hasn't changed much in 50 years...until now"
That's because cars are generally harder to steal, at a time when modern thieves sensibly stay indoors quietly committing Internet fraud, rather than venturing outside, nicking cars on streets swamped by CCTV and ANPR cameras.
Trouble is, well intentioned but misguided 'fair competition' laws from Europe dictate that car firms who have generally done a good job in combating car crime must now share their security secrets with wider audiences. Big mistake. Sharing attracts iffy third parties. One manufacturer told me the EU is actively "preventing makers from providing optimum security on their vehicles". The result? A thief can easily source an electronic 'key blank' that can be programmed to start the car of his choice.
Strict licensing of 'blanks' and related products would help. As would proof of ownership/user documents, which drivers should surely be legally required to present before heading out through ports. After all, some cars stolen in England end up in Eastern Europe within 10 hours.
• MPs want killer drivers to face manslaughter charges
It's time to get back to basics. Why do so many cars rely solely on one potentially cloneable key? Why not a combination of two or three electronic and manual keys? And how come manufacturers don't design and incorporate into their cars more physical restraints to prevent the unauthorised turning of steering and road wheels, or use of pedals?
As for the Tracker organisation? I'd prefer its army of technical folk and ex-cops to concentrate less on recovering cars after they've been stolen, and more on preventing vehicles from being nicked in the first place.
Do you think scaremongering is a problem when it comes to car crime? Let us know in the comments below...