"My New Year's resolution is to pay full retail price for, er, nothing"
Auto Express columnist Mike Rutherford is looking forward to a pound-pinching 2015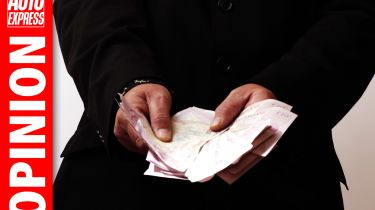 Embarrassing confession time: my bank balance looks sorrier than the sad face of the sulking springer spaniel I got for Christmas. What's more, my everyday car is three years old – and although I don't need to buy a new one, I feel I owe myself one. Know the feeling?
Also, the inspiring and precious five-acre Forest of Marcus I'm the proud custodian of is getting the better of my decades-old Land Rover which is reaching the end of its useful life. I need a new 4x4 workhorse.
All this means I'm going into 'Mike Miser' mode. My New Year's resolution is to pay full retail price for, er, nothing. The only products I'll buy will be those with meaningful discounts or other forms of financial incentives to purchase.
• "2014 was a great year for car fans, but 2015 will be even better"
What's a meaningful discount? One that saves pounds, not pennies. If, for example, you pay £2.60 instead of £2 for your annual bottle of screenwash, the 60p overspend is hardly a life changer. But paying £20,000 for a new car officially retailing at £26,000 will help change your life.
Alternatively, forget colossal price cuts when buying new cars and opt for deals comprising smaller discounts PLUS free finance, or insurance, or servicing, or fuel... or variations thereof. The likes of Citroen, Peugeot, Kia, SEAT, Skoda, Suzuki and Vauxhall dealers will play ball, I promise.
But buy an everyday car only if it's predicted to be a slow – around 20 per cent per annum – depreciator and will do at least 50mpg.
Annual VED charges are between zero and pennies per day, so comparatively trivial and not worth losing sleep over. But save thousands – or 10s of thousands over the years – by choosing cars with low (1-10) insurance group ratings.
• "The rental revolution has begun. Consumers may never want to buy a new car again"
Avoid parking in the centre of thieving towns or cities charging up to £4 an hour, and instead park free on the outskirts. Boycott financial 'crime scenes' such as the Dartford Crossing, plus liberty-taking, wallet-busting motorway service areas. Never pay more than £100 (VAT included) per hour for workshop labour. And with respect, if you pay full price for MoTs you're bonkers.
Who says? Mike Miser. Sincerely, he wishes you a prosperous, pound-pinching, profitable New Year.
How will you save money on motoring in 2015? Let us know in the comments below...