"I'd choose a cheap old banger over an electric car any day of the week"
Electric vehicles and charging points just aren't up to the job, says columnist Mike Rutherford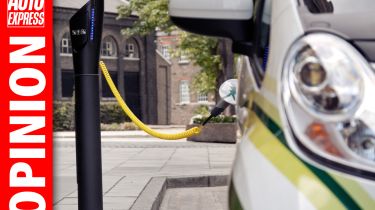 One of my most recent drives on a busy motorway in an all-electric vehicle fast running out of battery power is right up there with the most desperate and stressful journeys of my life. In fact, I'm still losing sleep over it now.
The problems began when, minutes into my gentle, 70-mile city-to-town run, the dash in the EV hinted that it might not, after all, have 70 miles in it. I diverted to a hotel with a charging point to top up with electricity. Yes, by straying from my original route I was wasting energy, but I needed to charge the car immediately.
Unfortunately, another EV was already connected to the charge point, and the hotel didn't know how long it would remain there – apparently it hogs it 24/7.
• "Transport is as much of a day-to-day issue as crime, the economy and immigration"
So, I was then forced to waste more time/miles/energy on a second diversion to a charging point alongside a motorway, which I'd rather have not been on!
The charger was filthy, but even worse, it was faulty. So, I was left languishing in a remote service area with no electricity and an EV quoting a range of eight miles.
I phoned a pal at the car company, and he insisted that eight means eight – although driving very slowly could eke out a few more miles. This wasn't range anxiety, it was sickening fear.
Brainwave – I realised my loyal friend Tom lives close to the nearest motorway exit, a little over eight miles away. Rightly or wrongly, I go for it. So there I was, on the hard shoulder, at bicycle pace, hazards on, for tens of stomach-churning minutes that seemed more like hours with passing HGVs too fast, loud and close for comfort.
• "My New Year's resolution is to pay full retail price for, er, nothing"
I had just enough 'juice' to reach the exit of the motorway, before rolling down the hill into Tom's driveway, where I cheekily plugged the EV into his domestic supply for an overnight recharge and blagged the use of his ageing petrol supermini-cum-shed on wheels.
But at least it had a range of hundreds, not tens, of miles. And that's why I can honestly say, hand on heart, that I'd choose a cheap old banger like this over a state-of-the-art, all-electric car any day of the week.
This latest incident just reinforces the idea that in the real, unpredictable world that we live in, 100 per cent electric vehicles and the charging points that they rely on just aren't up to the job.
Would you buy an electric car? Let us know below, on Twitter or on our Facebook page.