Car brokers guide
Our guide the buying a car through car brokers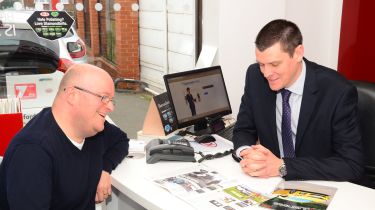 For:
• Haggling is done for you
• Eliminates the hassle of haggling
• Potential for big discounts
Against:
• Level of service varies
• No part-exchanges taken
• You may have to collect the car
If you want a new car but can't be bothered with the hassle of going to a dealership, then getting a new car broker involved can be an easy way to get a discount without doing the legwork. In theory, the broker will be an expert in negotiation when buying a car, and should be able to get a big discount from a dealer if they place an order for multiple vehicles.
One important point is that you shouldn't have to pay a broker to source a car. Instead, reputable brokerage firms charge the dealerships that they work with a small percentage fee for introducing the customer.
What is a car broker?
A variety of companies offer a brokerage service to source a new car for buyers, and it's worth checking on what you get from a broker before choosing the right firm for you.
The individual new car broker offers personalised advice and sourcing service for new car buyers. Their past experience will be from working at a dealership or a number of franchises, and they will be able to get good discounts on a new car from their extensive contact list.
While this sort of broker will be proactive in finding the right car and deal for you, other companies will take your order and put it out to a range of dealers to see which one comes back with the best offer. While there's nothing wrong with this approach, and means you could save a lot of money, it's not a personalised service and you tend to get a car that's not tailored to your own requirements.
You'll find a number of vehicle broker websites that operate in this way, and their large scale means they can deliver bigger discounts than the individual broker. These firms harvest multiple orders online and then approach dealers across the country who then compete for the business by offering their best price on a desired model.
Car brokers: what to look out for
If you don't want to visit a dealership and negotiate a deal in person, then a broker is a perfect alternative. However, don't take a broker's advice at face value, because they may point you towards a dealer or model that they know they'll be able to get the best discounts and commission from. A reputable broker will have previous customer reviews that will steer you in the right direction, while you should avoid a broker if they ask you for money up-front.
Most brokers don't have the facility to take your old car in part-exchange, while the mass-market firms will have some restrictions on specs, even if the broker can get hold of the exact model you're looking for. You might also need to collect your new car from the dealership, and that could be a bit of an issue if the broker has negotiated a deal with a dealer that's at the opposite end of the country. There's shouldn't be any problem with getting the car serviced at your local franchise dealer, though.
If you buy a new car through a broker, you need to ensure it's a new car. Check that your name is the first one on the registration document - if the car has been pre-registered by the dealer, then it's not new and the discount you get should be a lot larger.
Check the car thoroughly to ensure there's no damage and the spec is exactly as agreed. Make sure you're totally happy before paying off the balance.
Read our guide to car finance for top tips on finding the best deal
More guides to buying a new car