"My Young Adult Cancer Trust charity van is a true one-off"
Mike Rutherford now has a van he thinks could become a venue for blood tests, screening and more to raise awareness of cancer-related issues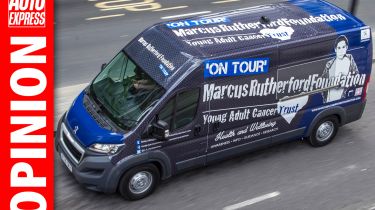 I like the idea of MPVs – or vans with windows, as I affectionately call them. Trouble is, they don't always live up to their claimed multi-purpose credentials.
But that changed last week when I collected the brand new mega-MPV I now have the honour of driving. It's a long-wheelbase 2.2 HDi Peugeot Boxer van, complete with windows covered in a see-through wrap. 
It's genuinely unique, and it's equipped to fulfil the true multi-purpose role ahead of it. Days old, it's already hauled personnel, served as a consultancy room and lugged boxes of educational material plus vitally important kit for hospitalised youngsters.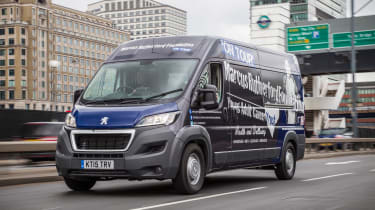 Why so much pride from me? Because I'm the 'works driver' of the Marcus Rutherford Foundation/Young Adult Cancer Trust van donated and equipped (to NHS ambulance standards) and wrapped (with the foundation name and a Banksy-style image of my boy) by Peugeot.
• Goodwood Festival of Speed 2015: full preview
Honestly, it's a true one-off. The black and blue exterior is deliberately edgy – reminiscent of a hellraising rock band's tour bus. But inside, it's more like a working ambulance cum clinic... but with funky furniture to give it a softer, more relaxed feel.
The van will debut at the Goodwood Festival of Speed where Lord March and other VIPs have promised to autograph its bonnet... and at the same time sign up for the fight against cancer.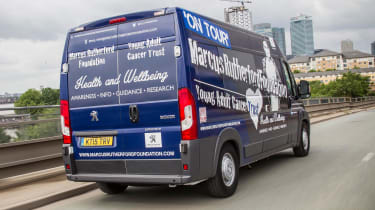 Then for the rest of 2015, the giant Peugeot will have a presence at music festivals, schools, universities, sports venues and countless other places. Its job? To raise awareness, provide information and offer guidance on cancer-related issues. If you're looking for a steer on blood, bone marrow and organ donation, or simply seek help in quitting smoking, we've got it. 
• UK Plug-In Car Grant to be replaced at the end of the year
But this is just for starters. With suitably qualified medical professionals already waiting in the wings, this vehicle has the potential to become a venue for blood tests, screening and more, including emergency deliveries of bloods and blood products.
Marcus's van appears alongside some awesome Help for Heroes vehicles at Goodwood from today (24 June) until Sunday (the 28th). So do stop by, pick up some leaflets, and ask for a guided tour of the battle bus. But please – don't leave until you've signed up for the fight against cancer. Log on to marcusrutherfordfoundation.com for more details.