"A new breed of sporty, performance SUVs is on the way"
There's another new niche coming your way, says deputy editor Graham Hope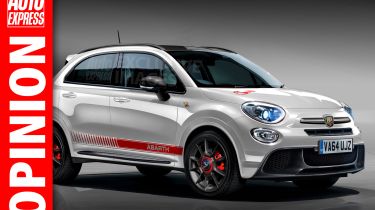 The Society of Motor Manufacturers and Traders' monthly registration figures have been on an upward trajectory for 41 months now, and the latest set of results, for July, continued the success story. A total of 178,420 cars were registered – up 3.2 per cent on the same month last year.
The year-to-date total is 1,555,309 – an increase of 6.5 per cent – which includes a record-breaking first six months of 2015, where registrations in the UK reached an all-time high.
Buried in the release which accompanied all this good news was a startling statistic which showed that the market for crossovers and SUVs has increased by 88.5 per cent over the past decade.
• "Let's hope Ford's halo models light up the rest of the range"
Yes, you read that right. 88.5 per cent! Arguably the car that kick-started this revolution was the Qashqai, and I can well remember the doubt that greeted Nissan's initial announcement it was ditching hatches for SUVs. There was a similar level of scepticism when BMW launched the X6, a coupé-SUV few thought would work. Now, of course, this area of the market is expanding rapidly, too.
So it's worth bearing all that in mind when you read our story this week that a new breed of sporty, performance SUVs is on the way.
Abarth's 500X is likely to be among the first of a series of models aimed at creating another niche in the ever expanding new car market. Sure, Abarth is a relatively minor player in Britain, but I know from speaking to sources at a number of huge-selling mainstream brands that there are seriously big players considering a move into this territory.
Of course, in theory a tall, high-riding performance car shouldn't really work. But, as the SMMT figures show, the industry has been very adept at turning unlikely ideas into sales successes. It'll be fascinating to see if it's hit on another surprise winning formula.
Are you planning on buying a hot crossover? Let us know in the comments below!