"Supermarkets are at war - and you're merely a pawn in the game"
Low supermarket fuel prices aren't about being generous to drivers, says Mike Rutherford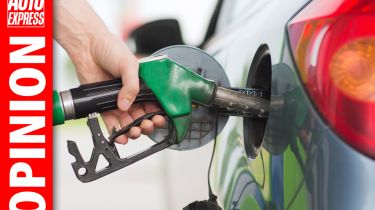 The petrol vs diesel debate took an intriguing twist a few days ago when BBC Radio 4's PM programme invited FairFuelUK and myself on the show.
FFUK claims to represent consumers but surprised me by coming down heavily on the side of petrol, suggesting that some motorists using unleaded can now achieve almost 80mpg. Really? I'd argue that this sort of economy in petrol cars on British roads is wishful thinking.
• "Car companies spend fortunes attracting customers - only to handle them atrociously"
As I stated on the programme, I'm an unapologetic diesel head. With the family sized (or larger) vehicles most of us drive, diesel is, all things considered, the better option. Used by real-world motorists in real-world conditions, they're usually 40-50 per cent more fuel efficient than their petrol counterparts. Result? Big reductions in time-consuming stops at hated pumps and forecourt shops. Lower annual fuel bills and fewer fuel-carrying tankers on the road.
Having said all that, don't buy a diesel vehicle just because supermarket giants have taken the lead this month in making derv cheaper. They're playing games with dairy farmers and shoppers over milk prices. And they're playing similar games with the oil industry and 
motorists over fuel prices. Morrisons poses more questions than it answers when it tells us to "never pay full price for fuel again".
• "Owners contribute thousands to Treasury, but politicians want 'supercar Asbos'"
And Asda has just announced a "national price cap [that] means drivers will pay no more than 108.7ppl on diesel and 111.7 on unleaded". Pity the company didn't mention it's only temporary. When I pressed it, Asda refused to say whether it's capping these prices for years, months, weeks, days or hours. But just as the 2.27-litre (four-pint) carton of supermarket milk is unsustainable at 89p, so too is the 1.0-litre (1.75-pint) squirt of diesel at 108.7p. When budgeting medium to long term, forget just over £1 per litre of fuel. Assume £1.50... or more.
Also, keep reminding yourself that the reduced pump prices on offer from the supermarket giants aren't about them trying to be generous to drivers. Instead, it's more about them attempting to win back customers who've defected to Aldi and Lidl which – thankfully for the likes of Asda, Morrisons, Sainsbury's and Tesco – don't possess fuel forecourts.
The supermarkets are at war with each other. Just remember that you, dear motorist, are merely a pawn in the game.
You can read all of Mike Rutherford's opinion articles here, or by picking up a copy of the magazine every week.