"America can keep its guns, but there are plenty of motoring ideas it should send our way"
Mike Rutherford would like to bring some aspects of American motoring culture to UK shores but leave others...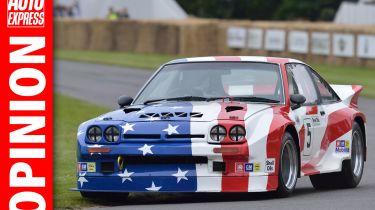 There are aspects of motoring life in America that we would rather not have in Britain, ta very much. 
For example, in Pennsylvania, Howard W. Altemos is a State Constable (his official title) who recently shot an unarmed, retreating motorist, Kevin McCullers. The bullet was pumped into him at 7.30am as he sat in his driveway. It lodged in his spine and left him permanently paralysed from the waist down. 
So McCullers must be a hardcore, armed and dangerous fugitive, right? Er, wrong. The man was "wanted – for unpaid parking tickets". 
• 'The 124 Spider could be the car to reignite Fiat's fortunes'
America can keep its guns and its iffy system of law enforcement/justice. But on a more optimistic note, there are plenty of US ideas and products that it could and should send our way.
Where British firms instantly slash your no-claims bonus. "Accident forgiveness" rather than financial punishment is the intriguing approach of at least one car insurer in America. Some car dealers currently scream "you work, you drive" to anyone with a job, regardless of salary levels or credit histories. 
Monthly car leasing at $59 (just over £1 a day) is a reality. But more popular are tempting 72-month deals comprising zero deposit, zero first month's payment and zero interest charges. 
• "Hyundai and Kia should recruit ex-VW Group bosses"
Gifts from dealers of pre-paid debit cards are increasingly common as they attempt to woo/incentivise/reward customers. Some have been offering $1 to potential buyers every day they stop by the dealership – even if they do so hundreds of times a year and never buy a car. 
Free car washes, vouchers for shopping malls and tickets for major sporting events are other worthwhile 'bribes' for consumers merely thinking of purchasing new cars. For those who actuallybuy, discounts of $14,000 are possible – even on humble Hyundais. 
Don't like dealing face to face with car salesmen? Not a problem. Multi-storey glass and concrete credit card-operated machines are claimed to be the next big thing. The US driver who's happy grabbing everything from cold drinks to hot pizza from vending machines will now enjoy the same buying experience when acquiring their next car. 
God bless America... and Kevin McCullers. 
Which aspects of US motoring life would you bring to the UK? Join the debate in the comments section below...