"Hyundai and Kia should recruit ex-VW Group bosses"
Top-end Genesis models could go up against Bentleys with the right people behind the brand, says Mike Rutherford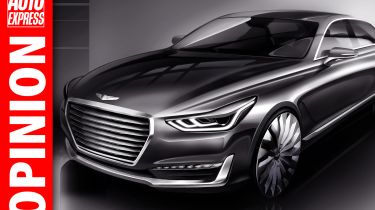 When in Seoul a year or three ago, I interviewed directors at Korea's top two car firms. Kia's boys ambitiously contended it's the new Volkswagen. Hyundai modestly saw itself as the next Audi-cum-BMW.
How I chuckled at their naive optimism. But the last laugh might just be on the Seoul brothers. As I said in an Auto Express story in 2013, Hyundai's comparatively upmarket (but currently horribly flawed) Genesis will be built in right-hand drive and should be a standalone franchise. Sure enough, examples hit Britain in 2014, then confirmation came this month that Genesis will become a sub-brand with its own posh dealer network. Just like Lexus. Sort of.
It gets better. Not satisfied with stealing Peter Schreyer, Hyundai-Kia-Genesis has just nicked another top designer (Luc Donckerwolke) from the VW stable.
Curiously, VW's sub-65 design director Walter de Silva 'retired' from Wolfsburg in recent days. Engineering/research/development gods Ulrich Hackenberg, Heinz-Jakob Neusser and Wolfgang Hatz are banned from doing VW work, and the same goes for VW Group godfather, Martin Winterkorn.
They're all too creative and addicted to walk away from the global motor industry. That's why I'm seriously suggesting that Winterkorn could – perhaps should – form the 'MW Group' before defecting to Korea with his gang of former VW Group directors, who are tainted but still talented. They'd probably be the best and most knowledgeable automotive consultants on the planet. And if Korea could tempt them, Kia as the new VW and Hyundai as the next Audi sound almost plausible. Plus, top-end Genesis models could go up against bottom-end Bentleys.
The son of Chairman Chung, who's about to take over the Hyundai-Kia-Genesis dynasty from the old man, is worth around $4billion. 'Chung The Young' badly needs assistance from Winterkorn, Hackenberg, Hatz, Neusser, de Silva and co. I know him and know he's clever and wealthy enough to recruit them, pay their lucrative consultancy fees and pick up the tab for the 'MW Group' luxury jet that could fly the Germans to Korea on Mondays or Tuesdays, then back to their homes in Germany or wherever on Thursdays or Fridays. Wolfsburg's considerable losses really could be Seoul's gains.
Could Hyundai and Kia's ambitions become a reality? Leave us a comment below...